Вакансія: National Public Health/IPC Officer
ЗАВЕРШЕНО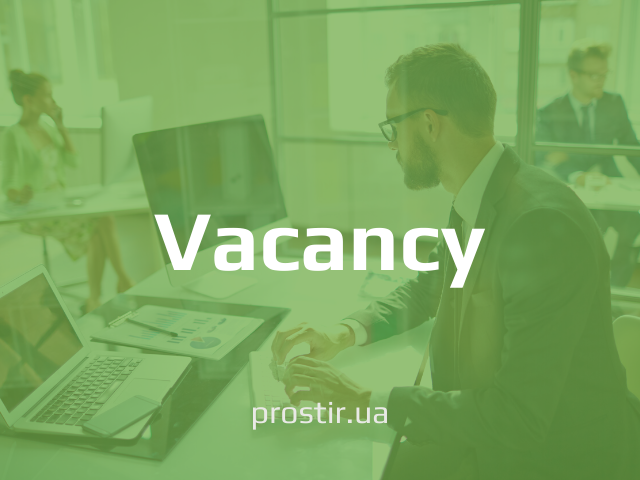 Open to External and Internal Candidates
| | | |
| --- | --- | --- |
|                     Position Title | : | National Public Health/IPC Officer |
|                           Duty Station | : |  Kyiv, Ukraine |
|                         Classification | : |  National Officer, NO-A |
|             Type of Appointment | : |  Fixed-term, one year with possibility of extension |
|         Estimated Start Date | : |  As soon as possible |
| | | |
| --- | --- | --- |
|                     Closing Date  | : | 12 August 2021 |
Established in 1951, IOM is the leading inter-governmental organization in the field of migration and works closely with governmental, intergovernmental and non-governmental partners. IOM is dedicated to promoting humane and orderly migration for the benefit of all. It does so by providing services and advice to governments and migrants.
IOM is committed to a diverse and inclusive environment. Internal and external candidates are eligible to apply to this vacancy. For the purpose of the vacancy, internal candidates are considered as first-tier candidates.
Context:
Under the overall supervision of the Chief of Mission and the direct supervision of the Emergency and Stabilization Programme Coordinator, the successful candidate will be responsible for coordinating the Public Health/IPC activity implementation of the UHF project in the line of contact areas of Stanitsa Luganska, Luhansk Oblast and Novatroski, Donetsk Oblast.
Candidate will coordinate the implementation of "Multisectoral action towards sustainable health and WASH management systems for Stanytsa Luhanska and Novotroitske EECPs and their referral medical facilities" specifically in relation to all epi/border health activities as outlined by the project and in line with WASH and Health cluster guidance. The IPC Officer will work under the direct supervision of IOM with technical supervision by the health cluster and WHO in support of national authorities to strengthen preparedness activities, coordination mechanisms and medical case management of populations crossing the line of contact.
Core Functions / Responsibilities:
Public health Officer (50%):
In coordination with the technical officer, conduct mapping of partners and stakeholders in place to define information sharing and decision-making mechanisms across numerous agencies, organizations and providers (national and international) involved in the system for the public health emergency response at EECPs and to provide recommendations on strengthening intersectoral coordination.
Participate in the assessment of the existing EECP public health core capacities to obtain baseline information and identify gaps.
Participate in the development of a plan of action that would address the gaps identified and improve the routine risk management, early warning and response systems, to meet the public health requirements related ground crossings activities, including quantification of the resource requirements (human, material, financial, procedural) essential to implement those interventions.
Under the guidance of the technical officer support the national counterparts in developing the contingency plan on the EECPs on the priority hazards.
Coordinate with relevant partners operating in health EECP/health monitoring at EECP to mitigate against overlap and identify new opportunities for engagement and participate in the health cluster providing regular updates on EECP activities.
IPC Officer (50%):
Under the guidance of the emergency coordination officer, support with coordination of all IPC components of the UHF project including monitoring  of the projects implementing partner and providing  technical support to IOM on other health related activities under E&S programme.
Participate in the develop/ adaptation of current Standard Operating Procedures (SOP) and customized to the local context and settings, with a view to providing and implementing recommendations to strengthen the IPC measures at EECPs.
On completion of the SoPs, coordinate the dissemination of the SoPs with relevant stakeholders and provide training where needed to facilitate harmonized implementation of SoPs.
Monitor the project IPs activities and work with them to develop suitable training curriculum for EECP actors.
Work alongside DTM, health and WASH cluster to developed relevant indicators to support the systematic gathering of health data at crossing points and support on information gathering where required.
Participate in relevant coordination fora and working groups and lead on engagement with other humanitarian and development actors in data related activities.
Perform such other duties as may be assigned.
Required Qualifications and Experience
Education
Master's Degree or Equivalent or higher in epidemiology or public health from an accredited/recognized institute
OR
Bachelor's degree or Equivalent in epidemiology or public health with at least 2 years of relevant work experience.
Experience
Demonstrated knowledge, competency and professional skills on the public health aspects of infectious disease control in the context of the International Health Regulations (2005)
Demonstrated prior experience with exit screening during public health events of international concern
Demonstrated prior experience with training and implementation of public health measures, preferably at POEs
Demonstrated prior experience with partners' capacity building, notably countries' IHR core capacities
Demonstrated knowledge in the IPC
Excellent knowledge of Microsoft Office applications.
Working knowledge of online data collection applications, statistical analysis packages.
Ability to coordinate across sectors and work with various stakeholders and multi-tasking within a highly demanding environment
Good communication skills and comfortable to engage with a wide range of actors
A good understanding implementing surveillance activity and public health measures for disease control at PoEs.
Languages
Fluency in English, Ukrainian and Russian is required.
The incumbent is expected to demonstrate the following values and competencies.
Values
Inclusion and respect for diversity: respects and promotes individual and cultural differences; encourages diversity and inclusion wherever possible.
Integrity and transparency: maintains high ethical standards and acts in a manner consistent with organizational principles/rules and standards of conduct.
Professionalism: demonstrates ability to work in a composed, competent and committed manner and exercises careful judgment in meeting day-to-day challenges.
Core Competencies
Teamwork: develops and promotes effective collaboration within and across units to achieve shared goals and optimize results.
Delivering results: produces and delivers quality results in a service-oriented and timely manner; is action oriented and committed to achieving agreed outcomes.
Managing and sharing knowledge: continuously seeks to learn, share knowledge and innovate.
Accountability: takes ownership for achieving the Organization's priorities and assumes responsibility for own action and delegated work.
Communication: encourages and contributes to clear and open communication; explains complex matters in an informative, inspiring and motivational way.
Managerial Competencies
Leadership: provides a clear sense of direction, leads by example and demonstrates the ability to carry out the organization's vision; assists others to realize and develop their potential.
Empowering others & building trust: creates an atmosphere of trust and an enabling environment where staff can contribute their best and develop their potential.
Strategic thinking and vision: works strategically to realize the Organization's goals and communicates a clear strategic direction.
Other
Any offer made to the candidate in relation to this vacancy notice is subject to funding confirmation.
Appointment will be subject to certification that the candidate is medically fit for appointment and security clearances.
A prerequisite for taking up the position is legal residency in the country of the duty station and work permit, as applicable.
How to apply:
Interested candidates are invited to submit their applications on IOM Personal History Form (iom.org.ua/sites/default/files/personal_history_form_2016.xls) to [email protected] by 12 August 2021 at the latest, referring to this advertisement in the subject line of your message.
Only shortlisted candidates will be contacted.
Posting period:
From 29.07.2021 to 12.08.2021