Вакансія: Strategic Consultant to Green Economy and Financing
ЗАВЕРШЕНО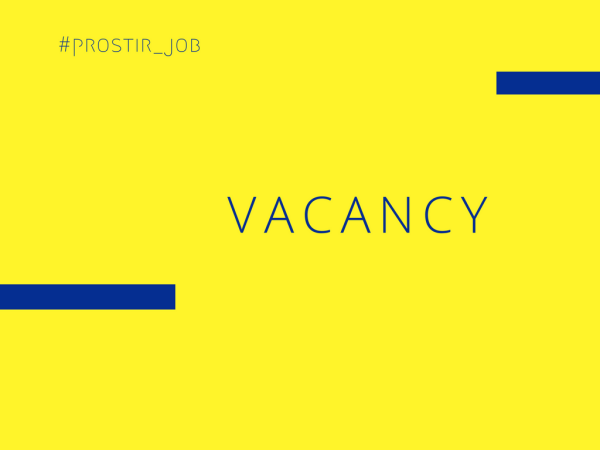 Background
Due to the COVID-19 pandemic, public and private sector stakeholders on the global level pay due attention to the non-financial risks by following the so-called "The Great Reset" approach – consider Environmental, Social and Governance (ESG) factors while elaborating recovery packages. Building a green economy will contribute significantly to the improvements in the above-mentioned dimensions.
Building a green economy in Ukraine is a core of the Association Agreement with the EU (see Art. 360). The Annexes to this document (especially, XXX and XXI) entail a list of relevant Directives and Regulations to make transition towards a green economy easier. Implementation of these legal acts is voluntary but could be considered as a prerequisite for a full economic integration of Ukraine with the EU. In addition, Ukrainian Government expressed its intention to join the EU Green Deal in October 2020 – support the EU in its intention to achieve a climate neutrality of the entire continent by 2050. Also, Ukraine signed the Paris Agreement and committed to submit a more ambitious Nationally Determined Contribution (NDC) by the next Conference of the Parties (COP) in 2021. At the same time, for Ukraine a more ambitious NDC will require additional 420-560 billion USD of the financial resources by 2030 (EBRD, 2018). Hence, the challenge of the green recovery is two-fold: transition to a green economy will require changes in the business philosophy and direct access to the private green financial resources.
To address the above-mentioned challenges and commitments, the Green Recovery project will provide an important stimulus for transition to a greener economy and more sustainable financial system – support implementation of the new business models, creation of the new green jobs, improved social inclusion of the citizens and unlock private green and sustainable finance. This objective will be achieved through delivery of the following outputs:
I. improved legal framework on the national level for a better green transformation of the economic and financial relations,
II. reduced transaction costs on the green finance market; and
III. better evaluation and management of the climate-related risks on the corporate level.
Development of the reports will include gender analysis and will use data disaggregated by sex and age, take into account how climate change impacts affects men and women differently, and identify key sectors, strategies and mechanisms for gender responsive policy and action.
Through this TOR, UNDP Ukraine is seeking a qualified local expert to provide technical assistance in carrying out analysis of the threats and opportunities arising from the EU Green Deal, as well as the plan on how to finance related measures.
Duties and Responsibilities
2. Duties and Responsibilities/Scope of work:
The main objective of the assignment is to conduct analysis of the threats (both economic and financial), which are arising from the EU Green Deal, and the ways on how to transform them into the opportunities for Ukraine.
Under the overall guidance of the Team Lead and in close cooperation with the Committee of the Verkhovna Rada of Ukraine on Environmental Policy, Nature Resources Utilization, the Consultant will be tasked with:
Conduct  the Strategic Assessment of the Threats and opportunities of the EU Green Deal for Ukrainian economy and financial system. For this purpose, the Consultant will analyze the EU Green Deal to elaborate recommendations and decision-making threes on the following :

Carbon Border Adjustment Mechanism (CBAM) and potential challenges for the Ukrainian exporters;
Circular Economy Action Plan with specific emphasis on the Carbon Farming Initiative;
EU Methane Strategy and improve measurement and reporting of methane emissions (as one of the key elements) one of the priorities of the Strategy is to;
EU Chemicals Strategy, which will introduce extra information requirements on chemicals in products and will track those chemicals;
EU Biodiversity Strategy with specific emphasis on the Payments for Ecosystem Services (PES);
From Farm to Fork EU Strategy, which will set out animal welfare labelling and front-of-pack nutrition labeling;
Investment Plan to the EU Green Deal with an emphasis on the access to the private green and sustainable finance (e.g. EU Green Taxonomy and EU Green Bond Standard);
EU Just Transition Mechanism with the main sources and mechanism for a  transition to a greener and sustainable economy/financial system;
Just Transition Mechanism to support "twin transition" of the coal-based regions;
Revised Energy Taxation Directive and potential implications for the reforms of the taxation system in Ukraine;

Ensure coordination with national counterparts and other stakeholders, so that common direction is developed and maintained with regard to EU Green Deal.  
Support the preparation of relevant interventions ensuring development impact, efficiency and effectiveness. 
Ensure alignment and coordination of recommendations and decision-making threes with other activities of the government of Ukraine and capitalize on synergies where possible.
Identify strategic opportunities and potential areas of cooperation, including opportunities for joint programming with UN agencies and other development partners (IFIs, INGOs etc.).
Provide sound contributions to knowledge networks and communities of practice.
3. Measurable outputs of the work assignment/deliverables:
Decision three on the most important threats arising from the EU Green Deal, as well as potential opportunities, prepared and provided to TL;
Table of comments developed based on the public consultations. Comments and proposals analyzed and considered in the final report;
Report on mobilizing private green and sustainable finance for transforming threats into the opportunities and active participation of Ukraine in the EU Green Deal, prepared and provided to TL;
Table of comments developed based on the public consultations. Comments and proposals analyzed and considered in the final report;
The report  finalized and submitted to TL;
A final report covering the whole assignment;
Monthly progress reports
4. Performance Indicators for evaluation of results:
Quality, relevance, and number of strategic documents, developed with proper reference to the SDGs;
Timely submission of the regular performance reports.
5. Monitoring / reporting requirements:
Work-progress reporting/monitoring meetings will be held with the consultant on a weekly basis. UNDP will be the final authority to control the quality and evaluate the work. No reports or documents should be published or distributed to third parties without approval of UNDP.
The consultant will work under the daily supervision of the Project Manager and will interact with UNDP to receive any clarifications and guidance that may be needed.
The satisfactory completion of each of the deliverables shall be subject to endorsement of the Project Manager.
The Consultant will duly inform UNDP of any problems, issues or delays arising in the course of implementation of assignment and take necessary steps to address them.
All reports and results are to be submitted to the UNDP in electronic form (*.docx, *.xlsx, *.pptx, and *.pdf or other formats accepted by UNDP).
Competencies
Demonstrates integrity by modelling the UN's values and ethical standards;
Promotes the vision, mission, and strategic goals of UNDP;
Displays cultural, gender, religion, race, nationality and age sensitivity and adaptability;
Treats all people fairly without favouritism;
Fulfils all obligations to gender sensitivity and zero tolerance for sexual harassment.
Required Skills and Experience
6. Experience and qualification requirements
Education
At least Master's degree in environmental sciences, energy, engineering, economics, law or closely related fields
Experience
Minimum 3 year of professional, research or academic and consultancy experience, with practical knowledge and experience in the area of green economy and finance;
Strong analytical, research, presentation, and report writing skills with a focus on analysis and expertise in green economy and financing confirmed by the related written products;
At least 2 years of experience working and collaborating with public and private sector stakeholders in Ukraine;
Language Skills
Fluency in Ukrainian and English
Skills
Strong managerial and leadership skills, notably planning, organizing, coordinating and controlling, problem solving and decision-making;
Experience in the usage of computers and office software packages, good knowledge and experience in handling of web-based management systems;
Ability to work under pressure and meet deadlines;
Excellent analytical skills;
Excellent writing, proficient communication and organization skills.
DEADLINE FOR APPLICATIONS 27 April, 2021.
If you wish to apply for this or other positions with UNDP, please visit UNDP in Ukraine website, section Jobs and apply online:
https://jobs.undp.org/cj_view_job.cfm?cur_job_id=98335 
UNDP will use a transparent and competitive screening process, though will only contact those applicants in whom there is further interest.
Applications may only be submitted for specific vacancy.
Qualified women are strongly encouraged to apply.