Вакансія: Program Officer (Temporary)
ЗАВЕРШЕНО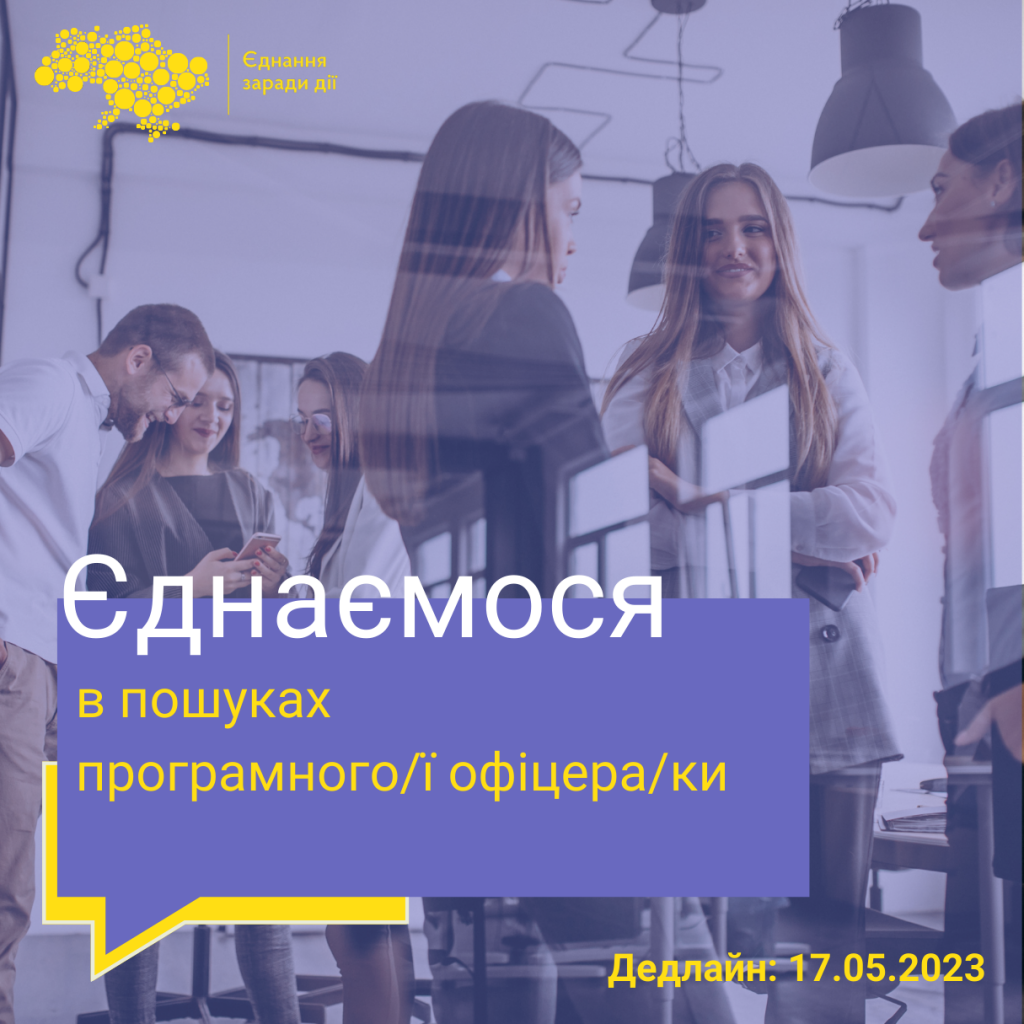 Who We Are
IREX is a global development and education organization. We strive for a more just, prosperous, and inclusive world—where individuals reach their full potential, governments serve their people, and communities thrive. With a projected annual portfolio of more than $100 million and more than 600 staff worldwide, we work with partners in more than 100 countries in four areas essential to progress: cultivating leaders, empowering youth, strengthening institutions, and increasing access to quality education and information.
IREX is seeking a qualified professional to fill the position of Program Officer for its United Voices in Action (VIA). The Program Officer will work closely with local project partners, trainers, NGO actors and other technical experts; develop training curriculum for Internally Displaced Persons (IDP) teens and activities for IDP kids; adapt IREX methodology for current program needs; attend and monitor training activities around Ukraine (if the security situation allows); hold responsibility for coordination of work of trainers, project representatives, vendors, etc.; collect feedback from beneficiaries; develop a long-term gender and social inclusion strategy for the United Voices in Action (VIA) project; ensure a gender and inclusion integration strategy across programming, including crafting opportunities for meaningful inclusion; contribute to program reporting and budget monitoring, and other tasks as needed to ensure accountability mechanisms for meaningful inclusion across program component areas. This position will be based in Ukraine. 
The goal of the CSO-funded United Voices in Action (VIA) program activity is to advance Ukraine's stabilization by fostering IDP integration, increasing community cohesion, contributing to local and national integration plans, and reducing IDP vulnerability to exploitation. IREX will support IDP and receive community members from up to 25 communities in twelve oblasts. Based on a conflict- sensitive and inclusive development approach, the VIA program will make local community members – both IDPs and non-IDPs – the drivers of change in their communities, leading to increased stabilization and mutual understanding through the development of a shared vision of a future where multiple perspectives are heard, and marginalized voices are elevated.  
This is a 6 month temporary position with possibility of extension.
Are you the next member of our team?
Your Background & Skills
Bachelor's degree in social science, international affairs, or a similar discipline.
Minimum of 3 to 4 years of demonstrated administration and leadership experience.
Minimum of 3+ years in civil-society programs and experience working in areas related to cohesion or inclusion; and experience designing and/or conducting relevant training programs. Including 1+ year experience working with international donor-funded projects; and experience in subgrant management.
Demonstrate ability to facilitate dialogue and work constructively with a diverse range of actors and to accommodate divergent interests and agendas in a multi-cultural environment, focusing on vulnerable populations.
Strong command of spoken and written English, Ukrainian.
Excellent interpersonal, communication, and writing skills.
Ability to be creative and generate new ideas.
Strong attention to detail and responsibility.
Ability to handle multiple priorities and complete tasks/projects in accordance with stated deadlines.
Ability to work independently with minimum supervision.
Ability to be flexible and respond to a rapidly changing program environment.
You must have unrestricted authorization to work in Ukraine.
Your Daily Tasks
Lead project activities within the VIA program as identified by the Program Manager or Program Director.
Providing and overseeing subgrants to local organizations.
Provide technical input into the adaptation of existing curriculums and oversee the adaptation of interactive training techniques for IDP kids and teens.
Oversee coordination of training events, including material design and printing, ensuring that objectives and targets are met on time and within budget.
Work closely with local partners on joint activities that aim to solve underlying tension, discrimination, or other obstacles to social cohesion.
Oversee, monitor, and administer day-to-day management of training and curriculum development project activities.
Provide expertise in gender equality, social inclusion, and female empowerment for the programs, stakeholders, and
Contribute to the distribution of best practices and lessons learned in gender mainstreaming, equality, and female empowerment among program participants and counterparts.
In close collaboration with the program team, craft opportunities for meaningful inclusion of diverse audience in training design, facilitation, participation, and evaluation.
In close collaboration with the subgrants team, integrate gender and inclusion requirements into bidding, procurement, and partner orientation materials.
In close collaboration with the MEL team, apply inclusion best practices to the design of data collection instruments, data analysis, program learning initiatives, and other MEL activities to track identity-based differences in participation and outcomes as well as the impact of program activities on progress toward gender equality and social inclusion.
Oversee accountability mechanisms for meaningful inclusion across program component areas.
Track and analyze work-plan activity progress toward project objectives.
Drive innovation of resources created under VIA program.
Travel throughout Ukraine to attend program events and meetings (if security situation allows).
Track a wide range of information and data, maintaining accuracy and completeness.
Interact regularly with opinion leaders, government officials, trainers, civil society and media groups, and other program stakeholders.
Develop and maintain effective collaborations with program partners.
Develop and maintain effective collaboration with program partners, including NGOs, government officials, civil society and media groups, and other program stakeholders. 
Stay up to date with monitoring the conflict in Ukraine and how it affects staff and communities to ensure the safety of all participants.
Represent IREX publicly and support its organizational development.
Contribute to program reporting and budget monitoring.
Supply technical assistance in relevant areas of expertise.
Other support duties as needed.
We conduct background checks on all successful candidates.
This position is eligible for Telework. The eligible employee is a regular, full-time Ukraine based staff who works from a worksite outside the Ukraine office for one or more days a week. 
This position is not eligible for Immigration Sponsorship.
NO PHONE CALLS PLEASE
EOE – Equal Opportunity Employer
We are an Equal Opportunity Employer, including disability/vets.
To apply please follow the link