Вакансія: Lead Regulatory Specialist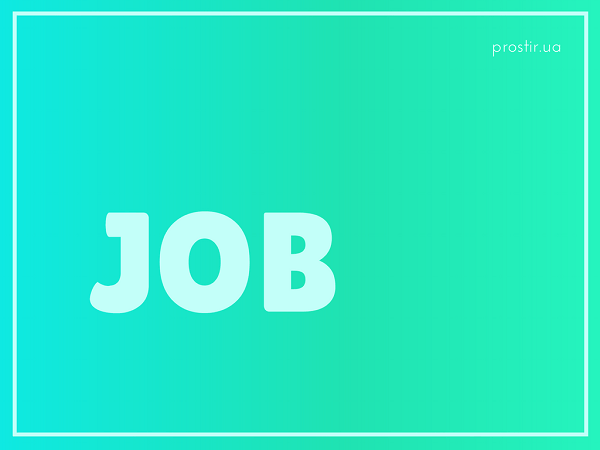 World Council of Credit Unions seeks a Lead Regulatory Specialist for the Credit for Agriculture Producers (CAP) Project in Ukraine, funded by the United States Agency for International Development (USAID), to work closely with regulators and legislators to improve credit unions' market operating environment in line with international best standards and allow credit unions to operate efficiently and competitively within the Ukrainian market. She/he will work closely as a team member to help revive the credit union sector in Ukraine by providing support to the National Bank of Ukraine (NBU) in strengthening of the credit union sector supervision.
Program: Credit for Agriculture Producers (CAP) Project 
About the Project:
CAP seeks to revitalize the credit union sector in Ukraine by creating a more transparent legal and regulatory framework for credit union operations in Ukraine to both promote growth and reduce risks, while improving access to agricultural finance for agricultural and rural micro, small, and medium enterprises through credit unions. Specifically, the project is expected to: (1) strengthen credit union regulator and national associations capacity; (2) advocate for an improved and updated legislative framework to meet European Union (EU) standards, enabling credit unions to compete with other financial institutions; and (3) address constraints preventing credit unions from expanding outreach and delivering high-quality lending to the agricultural sector.
Duties:
The Lead Regulatory Specialist will lead all legislative and regulatory tasks as required in line with project goals and annual implementation plans. Specific duties are as follows:  
Technical
1) Support the Regulator (NBU) to create an improved enabling environment 
Support drafting and reviewing the new credit union law, CU related legislative acts and and support its passage through the drafting and approval stage, as well as the Parliamentary review process;
Serve as key liaison between the NBU and the CAP Project and build effective relationships between the NBU, CAP and the credit union national associations to ensure effective communication and collaboration with the market;
Lead and coordinate CAP work to support the NBU as the credit union regulator in Ukraine, including preparation of work plans, workshops, trainings, and events; coordination of international study tours; and responding to all other requests for information and support as they arise;
Ensure NBU staff receive training on credit union regulatory and supervisory tools and exposure to international best practices and standards.
2) Engage Ukrainian legislators to support growth conducive credit union reforms 
Engage members of Parliament (MPs) on the benefits of the new credit union law through awareness raising, advocacy, participation in working groups, and attendance at committee meetings;
Actively participate in all working groups related to credit union legislation under the consideration of Parliament;
Track and review legislative initiatives which have an impact on credit unions, including but not limited to existing laws, proposed draft laws, and sectoral regulations; and
Provide consultations and input into other financial sector laws pertaining to credit union operations in Ukraine, including those currently being drafted.
3) Facilitate engagement and coordination with the national associations  
Work closely with the credit unions' associations to review and revise draft laws and policies to better meet the needs of credit union members and support their joint legislative initiatives.
General
Collaborate with other USAID activities in the financial sector to support implementation of the SPLIT law;
Create training materials and hold training sessions as needed; develop and supervise training programs for state officials as needed;
Liaise with partner organizations, consultants, government officials and other stakeholders as needed independently to ensure proper communication and information flow;
Contribute to the development of work plans, quarterly reports, reports to the Regulator and annual reports of CAP project and its partners as well as reporting required for the project partners, recipients and government as assigned by COP / DCOP;
Coordinate with international consultants, volunteers and WOCCU's advocacy team providing support to CAP on Objective 1.
Travel outside of Kyiv as needed to reach rural credit unions and their members; and
Fulfill all tasks required to meet project goals under CAP's Objective 1 as assigned and per request of the COP or DCOP.
Required Qualifications:
Masters' degree in law, international development, political science, economics or another relevant field;
At least 5-7 years of experience focused on assisting credit unions and/or other financial institutions in policy reforms and regulatory standards compliance and in achieving credit worthiness;
Previous experience working with, or understand the National Bank of Ukraine and its overarching functions;
Previous USAID experience preferred;
An understanding of how the legal framework affects women and disadvantaged groups;
In-depth understanding of the political, legal, and regulatory environment in Ukraine, with a focus on how the legal framework affects credit unions;
Training experience;
Excellent writing, research and communication skills;
Native Ukrainian fluency, both written and spoken;
Fluency or high proficiency in written and spoken English;
Computer proficiency (Microsoft Word, Excel, and PowerPoint);
Strong analytical and critical thinking skills;
Culturally sensitive and able to work with multiple stakeholders in Ukraine and understand their various positions/viewpoints;
An ambitious nature, problem-solving abilities, creativity, and a dedication to creating change in Ukraine.
Apply: Please send a cover letter, resume, and three reference contacts to [email protected] with the subject line: "Lead Regulatory Specialist". Only candidates who have been selected for an interview will be contacted. No phone calls, please. Thank you.