Помічник проектів для роботи в рамках Панелі Східного партнерства з питань міграції та притулку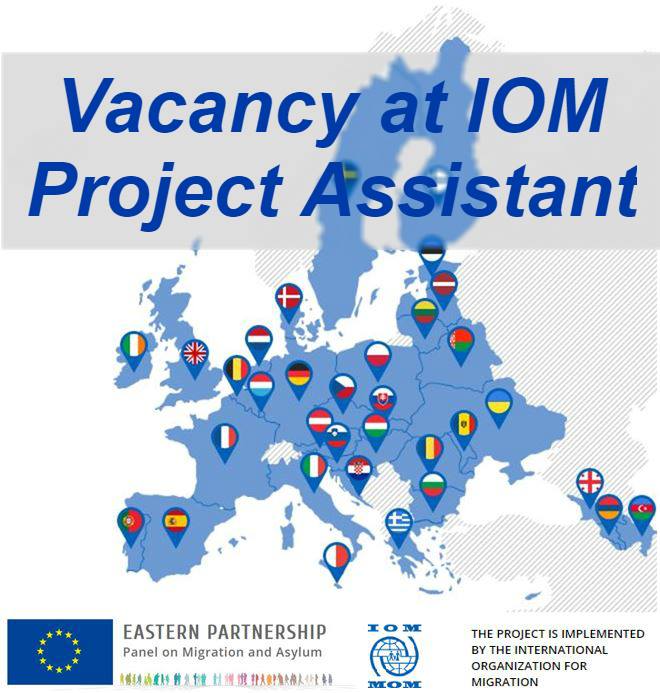 Термін подачі документів – до 2 травня 2017 р.
Under the direct supervision of the CBMM Programme Coordinator and the overall supervision of the Chief of Mission the incumbent will assist in supporting the work of the Eastern Partnership Panel on Migration and Asylum (EaPPMA).
Core Functions / Responsibilities:
Assist in preparing the EaPPMA meetings by (contributing to) drafting a meeting concept note, pre-meeting questionnaire, matrix with the participating countries' answers to the questionnaire, agenda of the meeting, discussion paper, meeting report, meeting evaluation forms and their analysis, identifying and inviting relevant speakers, identifying and inviting relevant trainers and experts etc.
Assist in planning and organization the practical in-depth sessions of the EaPPMA meetings.
Assist in planning and organizing a workshop for the EaPPMA National Focal Points (NFPs), the production of a manual for the NFPs on the EaPPMA meeting organization.
Regularly update the EaPPMA's website http://eapmigrationpanel.org (including news, meeting materials, relevant analytical materials etc) and ensure its uninterruptable functioning.
Coordinate English-Russian and Russian-English translation of the meeting materials and materials for the website including through engaging an external translator.
Support the recruitment of external consultants (e.g. visibility and communication expert) when required.
Support effective implementation of the communications and visibility activities.
Contribute to reporting on the IOM's support function to the EaPPMA (interim and final project reports, website statistical reports, monthly progress reports).
Maintain contacts through correspondence and other means of communication with the project partners, beneficiaries and other stakeholders as required.
Represent IOM Ukraine at the EaPPMA meetings and other events, undertake duty travel on a need-to-do basis.
Perform such other duties as may be assigned.
Required Qualifications and Experience
Education
High school Degree/Certificate with at least five years of relevant work experience
OR
Bachelor's Degree (preferably in law, international relations, political science, journalism or other related field) from an accredited institution with at least three years of relevant work experience.
Experience
Experience in the migration or the EU's external policy related field
Experience with processing and analysis of extensive arrays of information
Experience with organization of conferences, workshops, group visits
Proven experience in public communication activities, SEO, SMM etc.
Excellent communication and writing skills
High level of computer literacy
Languages
Fluency in English, Ukrainian and Russian is required.
Required Competencies
Accountability
Accepts and gives constructive criticism
Follows all relevant procedures, processes, and policies
Meets deadline, cost, and quality requirements for outputs
Monitors own work to correct errors
Takes responsibility for meeting commitments and for any shortcomings
Client Orientation
Identifies the immediate and peripheral clients of own work
Establishes and maintains effective working relationships with clients
Identifies and monitors changes in the needs of clients, including donors, governments, and project beneficiaries
Keeps clients informed of developments and setbacks
Continuous Learning
Contributes to colleagues' learning
Demonstrates interest in improving relevant skills
Demonstrates interest in acquiring skills relevant to other functional areas
Keeps abreast of developments in own professional area
Communication
Actively shares relevant information
Clearly communicates, and listens to feedback on, changing priorities and procedures
Writes clearly and effectively, adapting wording and style to the intended audience
Listens effectively and communicates clearly, adapting delivery to the audience
Creativity and Initiative
Actively seeks new ways of improving programmes or services
Expands responsibilities while maintaining existing ones
Persuades others to consider new ideas
Proactively develops new ways to resolve problems
Leadership and Negotiation
Convinces others to share resources
Actively identifies opportunities for and promotes organizational change
Presents goals as shared interests
Articulates vision to motivate colleagues and follows through with commitments
Performance Management
Provides constructive feedback to colleagues
Identifies ways for their staff to develop their abilities and careers
Provides fair, accurate, timely, and constructive staff evaluations
Uses staff evaluations appropriately in recruitment and other relevant HR procedures
Holds directly reporting managers accountable for providing fair, accurate, timely, and constructive staff evaluations
Planning and Organizing
Sets clear and achievable goals consistent with agreed priorities for self and others
Identifies priority activities and assignments for self and others
Organizes and documents work to allow for planned and unplanned handovers
Identifies risks and makes contingency plans
Adjusts priorities and plans to achieve goals
Allocates appropriate times and resources for own work and that of team members
Professionalism
Masters subject matter related to responsibilities
Identifies issues, opportunities, and risks central to responsibilities
Incorporates gender-related needs, perspectives, and concerns, and promotes equal gender participation
Persistent, calm, and polite in the face of challenges and stress
Treats all colleagues with respect and dignity
Works effectively with people from different cultures by adapting to relevant cultural contexts
Knowledgeable about and promotes IOM core mandate and migration solutions
Teamwork
Actively contributes to an effective, collegial, and agreeable team environment
Contributes to, and follows team objectives
Gives credit where credit is due
Seeks input and feedback from others
Delegates tasks and responsibilities as appropriate
Actively supports and implements final group decisions
Takes joint responsibility for team's work
Technological Awareness
Learns about developments in available technology
Proactively identifies and advocates for cost-efficient technology solutions
Understands applicability and limitation of technology and seeks to apply it to appropriate work
Resource Mobilization
Establishes realistic resource requirements to meet IOM needs
Other
The appointment is subject to funding confirmation is subject to funding confirmation.
Appointment will be subject to certification that the candidate is medically fit for appointment and security clearances.
A prerequisite for taking up the position is legal residency in the country of the duty station and work permit, as applicable.
How to apply:
Interested candidates are invited to submit their applications on IOM Personal History Form (http://iom.org.ua/en/personal_history or iom.org.ua/sites/default/files/personal_history_form_0.xls) to [email protected]  by 2 May 2017 the latest, referring to this advertisement in the subject line of your message.
Only shortlisted candidates will be contacted.
Джерело: IOM Ukraine.