Human Resources manager / Керівник(-ця) департаменту персоналу
ЗАВЕРШЕНО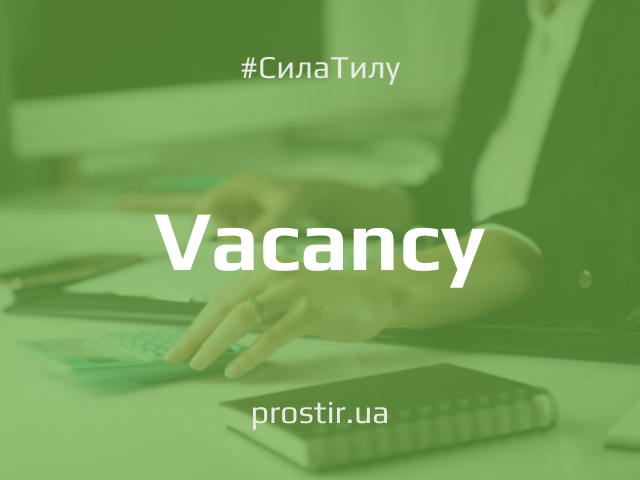 About Mercy Corps
Mercy Corps is a leading global organization powered by the belief that a better world is possible.
 In disaster, in hardship, in more than 40 countries around the world, we partner to put bold solutions into action — helping people triumph over adversity and build stronger communities from within.
 Now, and for the future.
General Position Summary 
Human Resources Manager is responsible to provide oversight to the management of human resources for Mercy Corps programming in Ukraine.
Assist in the achievement of MC program objectives with the facilitation of recruitment, remuneration and staff development issues in Human Resource Development.
Essential Job Responsibilities 
Strategy & Vision
Identify weaknesses in current HR systems in Ukraine. Advise supervisor on outstanding issues and assist in designing and implementing, as required.  
Play a full role in crafting Mercy Corps strategy in Ukraine, with a particular focus on people operations considerations.
Develop and implement human resources policies that ensure Mercy Corps is competitive in the Ukrainian labor market for non-profit organizations, and that our staff care package is supportive and offers flexibility to employees. 
Program Management
Responsible for maintaining personnel files for all staff – including recruitment documents, CVs, valid contracts, PAFs, timesheets, employee data sheets, disciplinary papers and performance evaluations.
Ensure the recruitment of national staff adheres to the standing Recruiting Policies and Procedures of MC Ukraine
Ensure participation of HR Department in interviews for new staff.
Ensure Salaries and benefits adhere to Mercy Corps salary scales and standing protocols.
Ensure Mercy Corps personnel policies strictly adhere to Ukraine labor law as applicable.   This includes payment of appropriate taxes, benefits etc.
Ensure that HR Officers maintain a tracking system for all types of leave for all employees.
Maintain up-to-date staffing lists by program and department.
Ensure that employee performance evaluations are completed as scheduled.
Ensure that all national staff have an up-to-date relevant job description.
Maintain annual holiday schedule including determination of exact holidays in advance of the holiday (as possible) and inform all staff.
Coordinate coverage for operations during annual leave of key national staff with Head of Office or Operations Manager.
Oversee the monthly procedure of timesheets for all staff including collection, review and compilation into payroll; train new staff on timesheet procedure.
Process monthly payroll in conjunction with Finance Manager and finance staff and ensure payroll is delivered in a timely manner according to the law of Ukraine.
Maintain national staff I.D. cards.
Assist with operational budget for staff coverage as requested. 
Responsible for the orientation of all new, national staff on Mercy Corps Country systems, policies and procedures.
Ensure all new staff receive copies of the Country National Staff Policy Handbook and are alerted to benefits.  Continue with support and advice on policies, as required.
Advise staff (national and international) on disciplinary procedures.
Advise staff (national and international) on raise policies and procedures.
Assist and advise SMT in training priorities for staff, prepare annual training plans
Oversee the clearance of terminated employees, as per MC policies and procedures.
Participate in disciplinary, hiring and termination meetings with program staff upon request.
Maintain confidentiality of all national staff personnel issues including disciplinary procedures and contracts/ pay rates.
Conduct himself/herself both professionally and personally in such a manner as to bring credit to Mercy Corps and to not jeopardize its humanitarian mission.
Team Management 
Create and sustain a work environment of mutual respect where team members strive to achieve excellence.
Promote accountability, communicate expectations and provide constructive feedback via regular performance reviews. 
Supervise, hire and orient new team members as necessary. 
Provide team members with information, tools and other resources to improve performance and reach objectives.
Contribute to country team-building efforts, help team members identify problem-solving options and ensure the integration of all team members into relevant decision-making processes.
Security 
Ensure compliance with security procedures and policies as determined by country leadership.
Proactively ensure that team members operate in a secure environment and are aware of policies.
Organizational Learning  
As part of our commitment to organizational learning and in support of our understanding that learning organizations are more effective, efficient and relevant to the communities they serve, we expect all team members to commit 5% of their time to learning activities that benefit Mercy Corps as well as themselves. 
Accountability to Beneficiaries 
Mercy Corps team members are expected to support all efforts toward accountability, specifically
 to our beneficiaries and to international standards guiding international relief and development work, while actively engaging beneficiary communities as equal partners in the design, monitoring and evaluation of our field projects.
Team members are expected to conduct themselves in a professional manner and respect local laws, customs and MC's policies, procedures, and values at all times and in all in-country venues.
Supervisory Responsibility
HR Officers
Accountability 
Reports Directly To: People and Culture Director
Works Directly With: RSMT, HR staff, Operations team
Knowledge and Experience 
Bachelor's or Master's Degree in HR, Economics,Law
At least 5 years of experience in HR Management is a must
Advance knowledge of written and spoken English, Ukrainian and Russian are essential.
Knowledge of the local legislation and taxation
Good communication, and conflict-resolution skills
Experience in start-up activities is an advantage
Certification in leadership program is an advantage
Knowledge of Sphere standards and other training in humanitarian response preferred.
Success Factors 
The successful HR Manager will be good at problem-solving and have the ability to work out methods to deliver successful programs while demonstrating excellent stewardship of donor funds and compliance with Mercy Corps and donor regulations. They will maintain strong cooperative relationships with other departments and interact effectively with international and national personnel both in a managerial as well as training capacity while demonstrating the ability to multi-task, meet deadlines and process information in support of changing program activities. The successful HR Manager must have a human approach to human resource problems. Regardless of the problems faced by the employees, they must have a sympathetic attitude while dealing with them. The most successful Mercy Corps staff members have a strong commitment to teamwork and accountability, thrive in evolving and changing environments, and make effective written and verbal communication a priority in all situations.
Interested candidates should submit their application through the following portal:
https://jobs.jobvite.com/mercycorps-internal/job/o4Mukfwo