Digital Communications Manager/Менеджер з цифрових комунікацій
ЗАВЕРШЕНО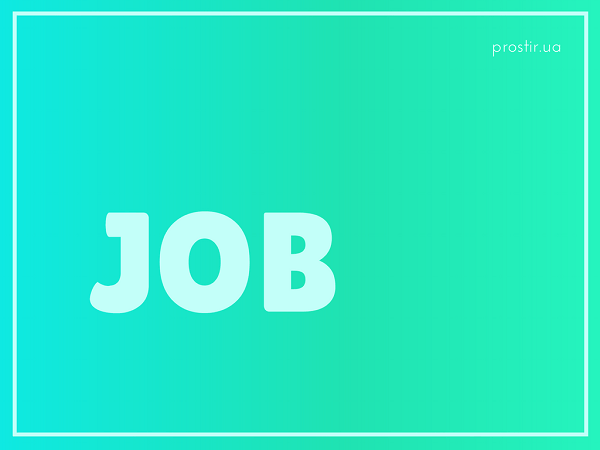 The Energy Security Project (ESP) is a five-year project funded by the United States Agency for International Development (USAID)[1] and the largest USAID project in Ukraine so far. The ESP is implemented by a USAID Contractor, Tetra Tech ES, Inc., a California-based leading provider of services in the areas of water, environment, infrastructure, resource management, energy, and international development.[2]
The ESP mission is to enhance Ukraine's energy security, improve the energy legal and regulatory environment in the country, and increase the resilience of Ukraine's energy supply. This will help to support country's economic development and sustain its democracy. ESP is working closely with the Government of Ukraine (GOU) to develop competitive energy markets. By doing so, ESP will facilitate private sector-led energy investments to provide affordable, reliable, resilient, and secure energy for all Ukrainians.
Position Summary:
Tetra Tech ES, Inc., implementing the USAID Energy Security Project, is looking for a Digital Communications Manager to support ESP activities to develop and implement effective project communication strategies at the national, regional, and local levels. The Digital Communications Manager will help with media promotion of project activities and work with partners/vendors to ensure the compliance of media materials with USAID regulations. The Digital Communications Manager will also contribute to program planning, design, and reporting. The Digital Communications Manager will report to the Communications & Public Outreach Director
Responsibilities:
Social Media
·Assist in the implementation of the Project's social media strategy, developed by the ESP Communication Team in cooperation with the ESP subcontractor;
·Contribute to the implementation of the ESP's SMM & overall Communication Strategy and its Implementation Plan;
·Manage the project's permanent dual-language (Ukrainian and English) digital presence on social media and the web (with a specific focus on Facebook, LinkedIn, YouTube and the Project's website), with a concentration on written content creation and visualization (including coordination of graphics creation with inhouse and/or outsourced designer/s);
·Understand and apply USAID branding and marking rules, complementing it with the ESP's visual identity;
·Regularly update the ESP's weekly content plans for Facebook and LinkedIn, based on relevant weekly reports and plans;
·Review all content with Senior Communications Team Management, prior to clearing with the ESP's profile sector leads/tech teams;
·Ensure content translation and editing by native speakers, obtain necessary intra-team clearances for all content prior to publishing;
·Monitor and catalogue notable comments and reposts on social media accounts of the ESP's beneficiaries and key partners, which contribute to reinforcing the ESP's key messages and highlighting USAID Ukraine/ESP contribution/assistance;
·Ensure reposts or cross-posting when asked by the USAID Ukraine DOC;
·Contribute to the development of the ESP's posts, complementing specific activities or outreach campaigns requested by the Client;
·Based on social media and website analytics, provided by the ESP's subcontractor, make recommendations on the ESP's social media activities;
·Monitor the ESP's social media incoming messages, comments and other relevant conversations, draft answers, get them cleared with the technical and/or communications team. As appropriate and with adequate input from technical staff, answer questions from online audiences in a timely manner, in compliance with the best USAID Ukraine and ESP's practice;
·Other related tasks, as assigned.
Events/Outreach
·In consultation/coordination with the Communications Team Management and technical and leadership staff, lead on the conceptualization, planning and execution a wide variety of events and public dialogue activities that support the overall objectives of the project and the specific sub-tasks itemized in the Annual Work Plan;
·This includes, but is not limited to, establishing the strategic purpose; envisioning the most appropriate, results-oriented and cost-effective "design;" working collaboratively to establish the agenda (moderator, speakers, panelists, topics to be covered, etc.); identifying venues as well as other necessary service and/or product providers (such as A/V, event support staff, hotel and travel arrangements, food and beverage, etc.); working with the graphics designer to create and produce banners, step-and-repeats, pull-up banners, hand-outs, etc.; creating tic toc and other planning and management documents; and complete management of live events where specialist is on-site; creation of after-action reports if required;
·Coordinate the production of events' materials and presentations, drafting talking points, coordinating the pre/post event articles/social media posts. Work closely with the technical writer on content development;
·Coordinate team members to cover events, pre-drafting and clearing posts, highlighting relevant reports for easy access of the ESP's accounts' followers;
·Other related tasks, as assigned.
Qualifications:
Education in communications or a related field;
Fluency in English and Ukrainian, Russian a plus;
At least 3 years of relevant experience conducting strategic communications activities on issues of public, social and political concerns;
Experience working with government and civil society institutions in developing and implementing effective and innovative communication activities;
Interest in key public policy issues including energy sector reform;
Experience developing and maintaining social media tools (Facebook, YouTube etc.);
Experience developing communication materials using computer graphic applications, for example: Adobe Photoshop, Illustrator, InDesign, Piktochart, Prezi, etc.;
Prior experience with USAID-funded or other international organization projects and familiarity with USAID communications policies is an asset;
Highly motivated, energetic, independent and a self-starter;
Ability and willingness to travel within Ukraine;
Strong communication skills – both oral and written.
To apply: Please submit a CV in English and a brief cover letter with the title of the position in the subject line to [email protected] 
There is no deadline associated with this position, Tetra Tech may fill the position when a qualified person is found. 
Only candidates who have been selected for an interview will be contacted. 
To find more about USAID Energy Security Project, visit the Project website https://energysecurityua.org, follow us on Facebook https://www.facebook.com/usaidesp/, LinkedIn https://www.linkedin.com/company/energysecurityua/ and Youtube
[2] http://www.tetratech.com/en/markets/international-development