WASH Officer (ЮНІСЕФ Україна)
ЗАВЕРШЕНО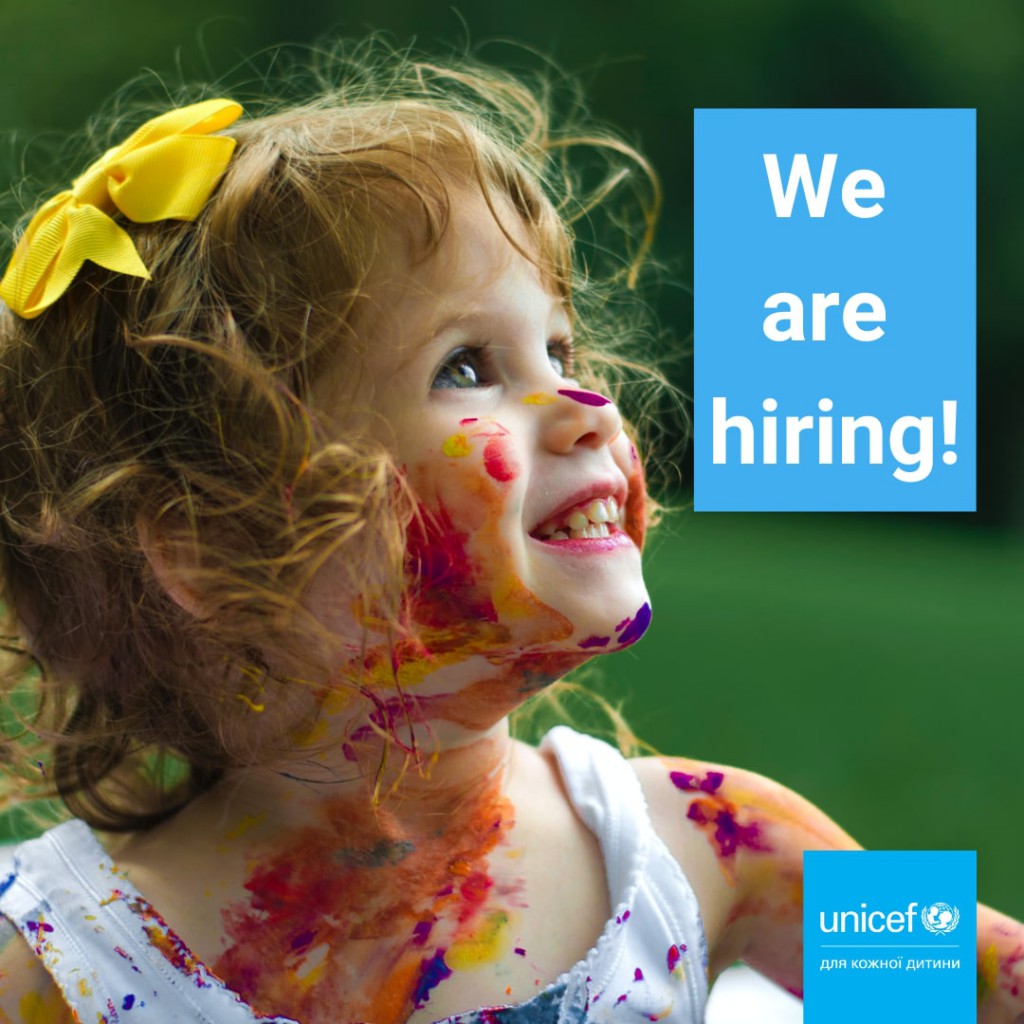 WASH Officer, NOB, Temporary Appointment, 364 days, Odesa, Ukraine
TO APPLY click here.
Contract type: Temporary Appointment
Duty Station: Kyiv
Level: NO-2
Location: Ukraine
Categories: WASH (Water, Sanitation and Hygiene)
UNICEF works in some of the world's toughest places, to reach the world's most disadvantaged children. To save their lives. To defend their rights. To help them fulfill their potential.
Across 190 countries and territories, we work for every child, everywhere, every day, to build a better world for everyone.
And we never give up.
For every child, WASH
How can you make a difference?
Please see attached Generic JD 
 Generic JD WASH Officer NOB.doc
To qualify as an advocate for every child you will have…
An advanced university degree in one of the following fields is required: public health, social sciences, behavior change communication, sanitary engineering or another relevant technical field. (While advanced university degrees for WASH positions are strongly preferable, offices are able to request a University degree at this level if they find difficulty in attracting a sufficient amount of candidates). Additional relevant post-graduate courses that complement/supplement the main degree are a strong asset.

A minimum of 6 years of relevant administrative or clerical work experience is required.

Fluency in English and Ukrainian is required. Knowledge of another UN language or local language of the duty station is considered as an asset.
For every Child, you demonstrate…
UNICEF's values of Care, Respect, Integrity, Trust, and Accountability (CRITA).
To view our competency framework, please visit here.
UNICEF is committed to diversity and inclusion within its workforce, and encourages all candidates, irrespective of gender, nationality, religious and ethnic backgrounds, including persons living with disabilities, to apply to become a part of the organization.
We offer a wide range of benefits to our staff, including paid parental leave, breastfeeding breaks and reasonable accommodation for persons with disabilities. UNICEF strongly encourages the use of flexible working arrangements.
UNICEF has a zero-tolerance policy on conduct that is incompatible with the aims and objectives of the United Nations and UNICEF, including sexual exploitation and abuse, sexual harassment, abuse of authority and discrimination. UNICEF also adheres to strict child safeguarding principles. All selected candidates will be expected to adhere to these standards and principles and will therefore undergo rigorous reference and background checks. Background checks will include the verification of academic credential(s) and employment history. Selected candidates may be required to provide additional information to conduct a background check.
Remarks:
UNICEF appointments are subject to medical clearance.  Issuance of a visa by the host country of the duty station, which will be facilitated by UNICEF, is required for IP positions. Appointments may also be subject to inoculation (vaccination) requirements, including against SARS-CoV-2 (Covid). Government employees that are considered for employment with UNICEF are normally required to resign from their government before taking up an assignment with UNICEF. UNICEF reserves the right to withdraw an offer of appointment, without compensation, if a visa or medical clearance is not obtained, or necessary inoculation requirements are not met, within a reasonable period for any reason.
This position will be based in Odesa, but based on the evolution of the situation in the country the staff member will be expected to move to a different location within Ukraine, including Kropynutiski, Dnipro, Kyiv, Vinnytsa, Lviv and Ushgorod cities.
Please note, this position is for Ukrainian Nationality only.
Advertised: 05 Aug 2022 FLE Daylight Time
Deadline: 09 Aug 2022 FLE Daylight Time
TO APPLY click here.