Бізнес-аналітик в Представництво ЄІБ в Україні
ЗАВЕРШЕНО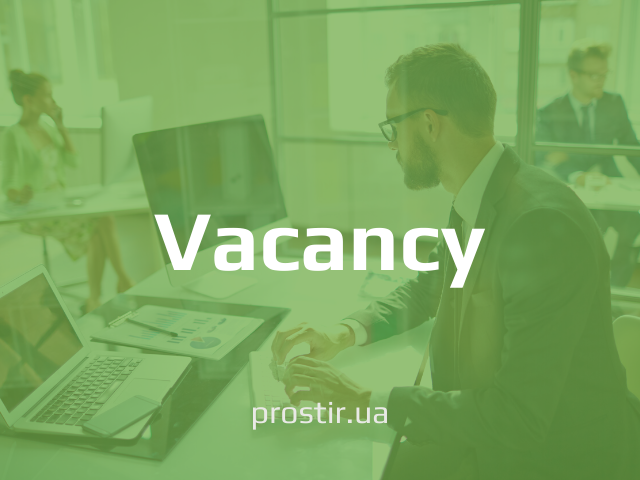 Business Analyst at the Representation of European Investment Bank in Ukraine
The European Investment Bank (EIB) is the European Union's financial institution. It works in support of EU development and co-operation policies by financing investment in both public and private sectors. The EIB is seeking to recruit for its Representation in Kyiv :
BUSINESS ANALYST
(full time position)
Duties:
The EIB seeks to appoint a Business Analyst to support in carrying out EIB financing operations in Ukraine, who will work within a team of international and national personnel located both in Kyiv and in the EIB's headquarters. The selected candidate will have the opportunity to make a varied, interesting and substantial contribution to the assessment, development and implementation of the EIB activity in Ukraine.
The Business Analyst will work from the EIB office in Kyiv under the daily guidance of the Head of Representation for Ukraine and will report to the Head of Public Sector East Lending Division for Neighbouring Countries for global objectives and operational targets.
The overarching goal of the Business Analyst will be to accelerate disbursements of EIB current and future loans, mainly in the public sector in Ukraine. The work will require close cooperation with teams responsible for implementation of ongoing and future projects financed through EIB loans, including Task Force Ukraine ("TFU"), which is a dedicated team of EIB experts complemented by consultancy resources, established to support the delivery of the Special Action Plan for Ukraine (a plan announced by the European Commission in the spring of 2014 to support Ukraine).
Specifically s/he is expected to carry out the following duties:
Identify any bottlenecks or difficulties in the disbursement of EIB loans and in the implementation of projects financed by EIB loans. This task will require performing a detailed analysis of investment processes related to projects in close collaboration with projects' teams, including TFU.
Recommend measures aimed at alleviating bottlenecks or difficulties referred to in point 1 above. This task will have to take into account the local regulatory and administrative environment, EIB requirements as well as any project-specific conditions.
Support the implementation of measures described in point 2 above. This task will require a pro-active cooperation with all stakeholders responsible for implementation of projects financed by EIB in close cooperation with EIB staff.
Support in carrying out other activities related to disbursements of EIB loans, such as reviewing project related documentation requiring Bank's clearance or meeting any other conditions to disbursements.
Write regular monitoring reports describing progress made with implementation of projects financed through EIB loans.
Support in the preparation of annual work plans and budget estimates of various projects and reviewing the adequacy of the yearly allocated project budgets by the Ministry of Finance.
Carry out monitoring of project budgets vis-a-vis actuals, analyse variances and support in undertaking corrective actions.
Qualifications, experience and skills:
Bachelor or preferably a Masters' degree in Finance/Economics or a business related discipline. An additional engineering degree or similar qualification or experience will be an advantage;
At least 3 years of relevant experience in strategic consultancy, corporate finance, project finance or in financial project/programme management;
Knowledge of accounting principles and of financial analysis;
Knowledge of the standard IT office tools (Word, Excel, Power point);
Excellent knowledge of spoken and written English and Ukrainian. Knowledge of Russian will be an advantage.
Political, economic and public sector Ukrainian background knowledge is required
Working experience in an international company or organisation would be a clear advantage;
Dynamic pro-active individual with excellent interpersonal and business skills;
Capacity for rapid and clear analysis and reporting.
Competencies:
Achievement Drive: continually keeps an eye on performance, focusing on improving it, showing drive and determination to meet short and long-term goals.
Change Orientation: Adapts to differences and changes in the environment; takes a flexible approach to reach outcomes.
Collaboration:Works cooperatively as part of a team; works collaboratively with peers across organisational boundaries based on a genuine interest in and an accurate understanding of others and their individual perspectives and concerns.
Organisational Commitment: Is willing to commit to an organisation whose mission is to support Europe and is open to diversity, and to align her/his own behaviour with the organisation's needs and intrinsic values, acting  with integrity in ways that promote the organisation's mission, policies and rules.
The position is open to nationals from Ukraine. Although mainly operating from Kyiv, the successful candidate should also be prepared to travel within the region and occasionally to headquarters in Luxembourg.
We are an equal opportunity employer, who believes that diversity is good for our people and our business. As such, we promote the inclusion of suitably qualified and experienced staff without regard to their gender, age, racial or ethnic origin, religion or beliefs, sexual orientation/identity, or disability (*).
Personal data are processed in the context of recruitment in accordance with Regulation (EU) 2018/1725 of 23 October 2018 on the protection of natural persons with regard to the processing of personal data by the Union institutions, bodies, offices and agencies and on the free movement of such data.
By submitting the application I agree to the Terms and Conditions of the Recruitment privacy policy.
Interested candidates can send an application in English, including CV and a cover letter to [email protected].
Deadline for applications: 30th of September 2021. Only short-listed candidates will be contacted.