Вакансія: Advisor Civil Society Engagement for Digital
ЗАВЕРШЕНО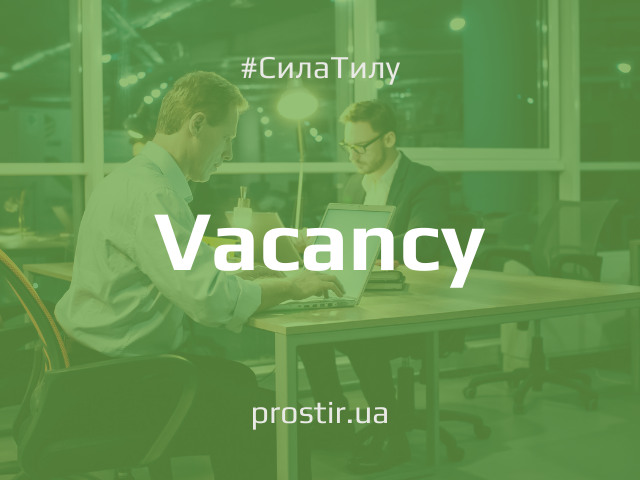 Deutsche Gesellschaft für Internationale Zusammenarbeit (GIZ) in Ukraine is seeking a qualified professional for project Good Governance through GovTech and Transparency to fill the position of the
Advisor Civil Society Engagement for Digital  
(internal SAP code: Organizational Development and Management Advise Advisor ) (full-time, Kyiv)
The project "Good Governance trough GovTech and Transparency" is supporting the Ministry of Digital Transformation Ukraine and key stakeholders in civil society in developing and applying digital tools for the recovery of the country. With a special focus on data competency development and data quality enhancement (e.g. registries and data management) public sector actors are supported in data based decision making. By strengthening participatory approaches and formats the project aims to promote citizen-centered design of digital public services and increase transparency.
Responsibilities:
Supporting Ukrainian civil society partners in their cooperation with the public sector on data based decision making for recovery.
Analysis of priorities and capacity development needs of civil society actors to improve participation in governmental IT processes, data sets and data quality.
Development of data competence and watchdog formats for civil society actors.
Advisor will support the deputy project director in the technical, administrative and financial implementation of the project with responsibility for certain project outputs.
He/She ensures the implementation and achievement of indicators for the respective goals/outputs.
Ensures monitoring and timely reporting, contributes to the overall knowledge and data management.
The job holder takes over other activities and tasks upon the instruction of the manager.
Required qualifications, competences and experience:
Higher-education degree in IT, management, political science or similar.
At least 3 years working experience in project management.
At least 3 years working experience in the field of capacity development for civil society.
St least 3 years working experience on open data and digital transparency initiatives.
Experience in advising digital transformation topics in the public sector.
Cooperation experience: at least 3 years with the public sector in Ukraine.
Previous work experience in international development cooperation is an asset.
Experience with complex stakeholder management.
Experience of working in diverse teams (e.g. different cultural backgrounds).
Very good command of Ukrainian, English. Knowledge of German is an advantage.
Excellent working knowledge in the use of digital applications.
Team player with excellent intercultural competences; proactive, innovative and hands-on attitude; high degree of discretion and integrity.
Ability to work flexibly and independently, also under stressful conditions.
Very good communication and facilitation skills.
Readiness to participate in up-skilling activities in line with the relevant job requirements as agreed with the manager.
Readiness for occasional business trips.
We offer:
Official employment.
Salary fixed in EUR, performance-related bonuses and 13th salary.
Medical insurance, 29 vacation days annually.
Language classes, hard and soft skills trainings.
Individual and group psychological support.
Possible remote and flexible work.
Meaningful and valuable work, international environment.
Employment conditions
Full-time position with 40-hours working week. The contract duration is till December 2025. Starting as soon as possible.
GIZ is an equal opportunity employer and offers an attractive and challenging working environment with opportunities for skill enhancement.
Application
We are looking forward to your application in English, comprising your CV and a Cover letter explaining your motivation to apply for the job to [email protected] until COB 14 December 2022, Wednesday.
By sending the application the candidate gives the consent for the personal data processing for recruitment processes solely.
Only shortlisted candidates will be contacted for the next stages of the recruitment process.