Вакансія: Administrative and Finance Officer
ЗАВЕРШЕНО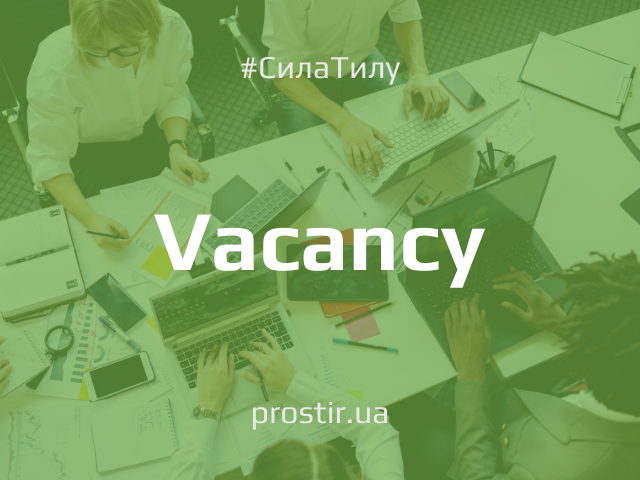 World Council of Credit Unions, Inc.
Position Description
Position: Administrative and Finance Officer
Program: Credit for Agriculture Producers (CAP) Project
Application Deadline: Until filled
Location: Office in Kyiv, Ukraine
World Council of Credit Unions seeks an Administrative and Finance Specialist for the Credit for Agriculture Producers (CAP) Project in Ukraine, funded by the United States Agency for International Development (USAID). The purpose of the position is to support the Project's administrative and finance needs in the Kyiv office, in support of technical implementation throughout Ukraine.
About the Project:
CAP seeks to revitalize the credit union sector in Ukraine by creating a more transparent legal and regulatory framework for credit union operations in Ukraine to both promote growth and reduce risks, while improving access to agricultural finance for agricultural and rural micro, small, and medium enterprises through credit unions. Specifically, the project is expected to: (1) strengthen credit union regulator and market capacity; (2) advocate for an improved and updated legislative framework to meet European Union (EU) standards, enabling credit unions to compete with other financial institutions; and (3) address constraints preventing credit unions from expanding outreach and delivering high-quality lending to the agricultural sector.
Duties:
The Administrative and Finance Officer will be responsible for the office management, procurement for the office and to support project objectives, document flow administration, and assisting the Finance and Administration Director with financial and accounting issues, and any other duties as assigned.
The Administrative and Finance Officer will report directly to the Finance and Administration Director (FAD) and the Chief of Party (COP), working closely as a member of a larger team to achieve program objectives by fulfilling the following duties:
Administrative/Office Management tasks:
Ensure office operates smoothly and efficiently, including ensuring sufficient supplies, and stationery stock, overseeing cleaning schedule, managing office utility services, and timely maintenance of office equipment, etc.;
Support document flow administerion for the Project, including managing in- and outgoing correspondence, maintaining log;
Support in-country logistics for the team and Project's visitors, including travel, meetings, events, and workshops according to Project's policies and needs; 
Providing administrative support to Objectives' Teams where needed;
Maintain project emergency cascade, and support security planning for the office; 
Complete ad-hoc administrative and office management tasks as assigned by DAF or COP and other tasks as required to ensure efficient functioning of the office and project.
Procurement: 
Ensure the procurement process is followed from placing a quotation to following-up on the execution of an agreement with the supplier, including support towards the supplier selection process, all in compliance with USAID rules and regulations and WOCCU policies;
Inspect goods and check services after their delivery;
Communicate with WOCCU headquarters on procurement and document approval;
Organize procurement document flow and ensure its accurate maintenance;
Support an inventory audit in accordance with WOCCU procedures;
Provide information on procurement status and inventory results upon request;
Maintain and monitor a local agreements tracker to ensure local contract compliance and management.
Finance and accounting tasks:
Work closely with the Finance and Administration Director to provide support as required;
Work with petty cash: visit bank for cash withdrawal from bank account or deposit cash to bank account, prepare related cash reports and vouchers, make petty cash payments/disbursements if needed;
Maintain corporate card bank account: draft vouchers, make payments, prepare monthly report.
Required Qualifications:
Bachelor's degree in finance, accounting, economics, program administration or another related field;
Minimum 5 years of experience serving in an accounting, finance and administrative support role preferably on a USAID or EU funded project;
Experience and/or good understanding of procurement procedures and regulations in international organizations, such as USAID or EU funded projects, strong understanding of USAID procurement regulations preferred.
Significant experience working with suppliers' documents such as contracts, specifications, and purchase orders;
Experience contracting local legal entities and consultants;
Excellent attention to detail, accuracy in carrying out assignments, promptness in proceedings, and providing quick feedback to the team;
Ability to meet deadlines, prioritize deliverables, structure work processes, and to work as a member of a team to reach a common goal;
Proven problem-solving skills and pro-active approach to tasks at hand;
Native Ukrainian fluency, both written and spoken;
Fluency or high proficiency in written and spoken English;
Excellent computer skills, Microsoft Office programs, proficiency in Microsoft Word and Excel;
Strong analytical and critical thinking skills;
Culturally sensitive and able to work with multiple stakeholders in Ukraine and understand their various positions/viewpoints.
Apply: Please send a cover letter, resume, and three reference contacts to [email protected] with the subject line: "Administrative and Finance Officer". Only candidates who have been selected for an interview will be contacted. No phone calls, please. Thank you.