Programme Assistant, ЮНІСЕФ Україна
ЗАВЕРШЕНО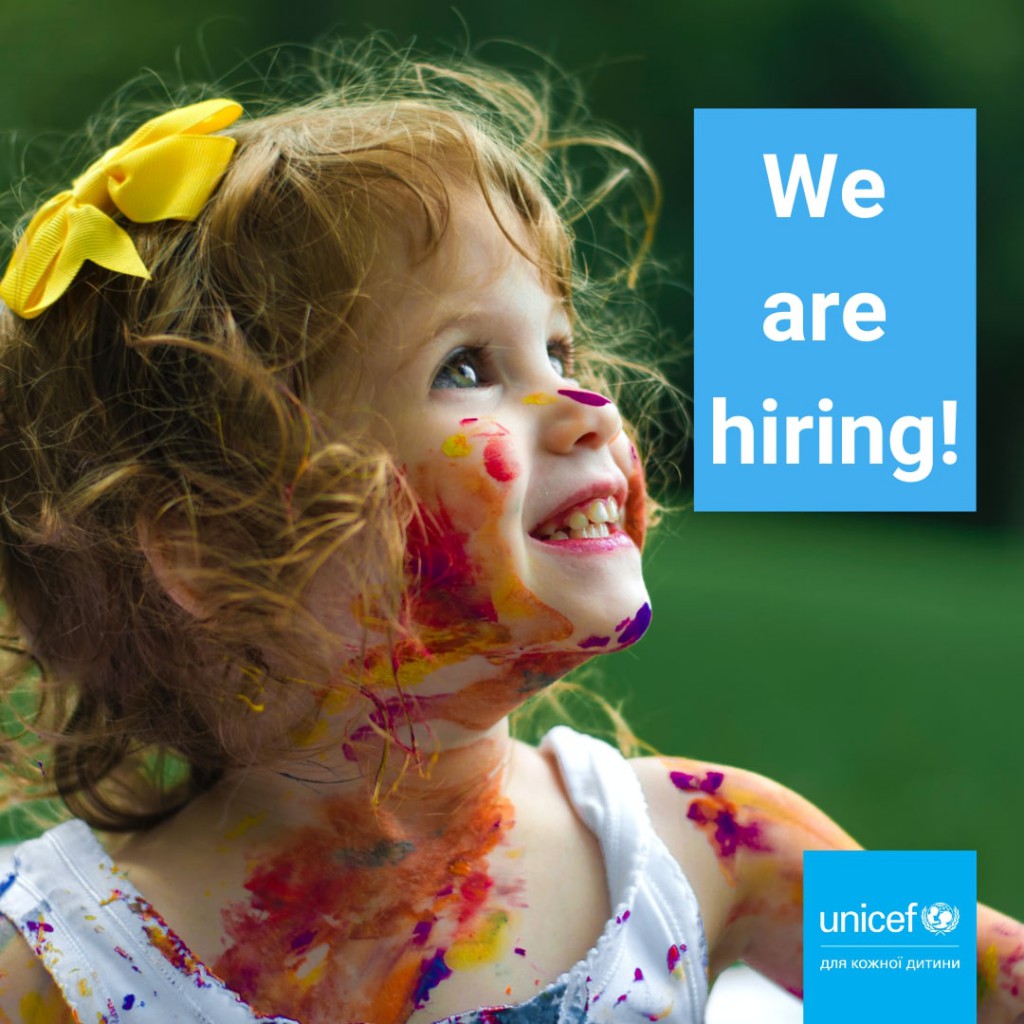 Programme Assistant, GS-5, Fixed-term, Ukraine (multiple locations)
Contract type: Fixed Term Appointment
Level: G-5
Location: Ukraine
Categories: Administration
UNICEF works in some of the world's toughest places, to reach the world's most disadvantaged children. To save their lives. To defend their rights. To help them fulfill their potential.
Across 190 countries and territories, we work for every child, everywhere, every day, to build a better world for everyone.
And we never give up.
For every child, care
The Level 3 Scale-up for Ukraine was activated effective 5 March 2022, for an initial period of six months. With the activation of the procedure, UNICEF has adopted a no-regrets approach in view of the complex situation and increasing humanitarian needs, to ensure that UNICEF continues to provide life-saving response for the children and women in Ukraine in line with the CCCs.
The escalation in the armed conflict in Ukraine poses an immediate threat to the lives and wellbeing of the country's 7.5 million children. The intensification of the armed conflict is posing severe human costs, causing a growing number of civilian and children casualties, interrupting livelihoods and damaging critical civilian infrastructure, including hundreds of homes, water and sanitation infrastructure, schools and health facilities. Hundreds of thousands of children and their families have been internally displaced and, to-date, over one million forced to flee the country in search of safety – the majority are women and children.
In response, UNICEF has already mobilized organization-wide support. However, the deteriorating situation and complex operating environment requires strengthened capacity and sustained efforts to further expand our presence and work in those parts of the country that can be safely accessed, to strengthen our cluster and overall humanitarian leadership, and to continue scaling-up our humanitarian action, with priority focus on child protection, health, WASH, nutrition, learning, cash interventions and social protection efforts. UNICEF is also coordinating with refugee hosting countries to prepare and respond to the humanitarian needs emerging from population movements.
Summary of key functions/accountabilities:
Facilitating the processing of contracts for consultants, vendors and external partners that support the office in programme delivery. This includes preparing and filing documents, completing necessary forms and templates, uploading TOR's in VISION, and making necessary logistical arrangements. Keeps vendor lists, partners, and consultant rosters up-to-date.
Collecting invoices and filing documents for approval and thereafter processing in VISION and Mycase.
Preparing and maintaining records, documents and control plans for the monitoring of project/programme implementation and financial expenditures.
Supporting the management of administrative supplies and office equipment.
Maintaining office calendar and arranging meetings. Taking minutes of meetings and keeping the correspondence of the team well organized.
Providing travel assistance to staff members in section for travel arrangements and entitlements based on the organization's rules and policies. Liaising with relevant travel focal points to ensure that the organization obtains the best service and price for all travel.
Maintaining and updating a system which monitors the absence of staff.
Preparing and maintaining records pertaining to programme planning and development for his/her respective section.
Carrying out transactions in VISION ensuring programme results, activities and programme coding are as per annual work plans (AWPs), and makes amendments and alterations as per section revisions when necessary.
Supporting capacity development activities, meetings and conferences by making the logistical arrangements, through engaging with facilitators, caterers and hosts; arranging times through liaising with participants over availability; liaising with budget focal points and section over costs and needs; and preparing background materials for participants.
This position is required for several locations within Ukraine.
To qualify as an advocate for every child you will have…
Completion of secondary education, preferably supplemented by technical or university courses related to the work of the organization.
A minimum of five years of progressively responsible administrative or clerical work experience is required.
Strong organizational, planning and prioritizing skills and abilities.
High sense of confidentiality, initiative and good judgment.
Ability to work effectively with people of different national and cultural backgrounds.
Training and experience using MS Word, Excel, PowerPoint and other software, such as SharePoint.
Strong office management skills.
Fluency in English and Ukrainian is required.
For every Child, you demonstrate…
UNICEF's values of Care, Respect, Integrity, Trust, Accountability and Sustainability (CRITAS).
To view our competency framework, please visit here.
UNICEF is committed to diversity and inclusion within its workforce, and encourages all candidates, irrespective of gender, nationality, religious and ethnic backgrounds, including persons living with disabilities, to apply to become a part of the organization.
We offer a wide range of benefits to our staff, including paid parental leave, breastfeeding breaks and reasonable accommodation for persons with disabilities. UNICEF strongly encourages the use of flexible working arrangements.
UNICEF has a zero-tolerance policy on conduct that is incompatible with the aims and objectives of the United Nations and UNICEF, including sexual exploitation and abuse, sexual harassment, abuse of authority and discrimination. UNICEF also adheres to strict child safeguarding principles. All selected candidates will be expected to adhere to these standards and principles and will therefore undergo rigorous reference and background checks. Background checks will include the verification of academic credential(s) and employment history. Selected candidates may be required to provide additional information to conduct a background check.
Remarks:
Mobility is a condition of international professional employment with UNICEF and an underlying premise of the international civil service. Only shortlisted candidates will be contacted and advance to the next stage of the selection process.
UNICEF appointments are subject to medical clearance.  Issuance of a visa by the host country of the duty station, which will be facilitated by UNICEF, is required for IP positions. Appointments may also be subject to inoculation (vaccination) requirements, including against SARS-CoV-2 (Covid). Government employees that are considered for employment with UNICEF are normally required to resign from their government before taking up an assignment with UNICEF. UNICEF reserves the right to withdraw an offer of appointment, without compensation, if a visa or medical clearance is not obtained, or necessary inoculation requirements are not met, within a reasonable period for any reason.
Advertised: 08 Aug 2022 FLE Daylight Time
Deadline: 17 Aug 2022 FLE Daylight Time