Procurement and Logistic Associate до UNFPA Україна
ЗАВЕРШЕНО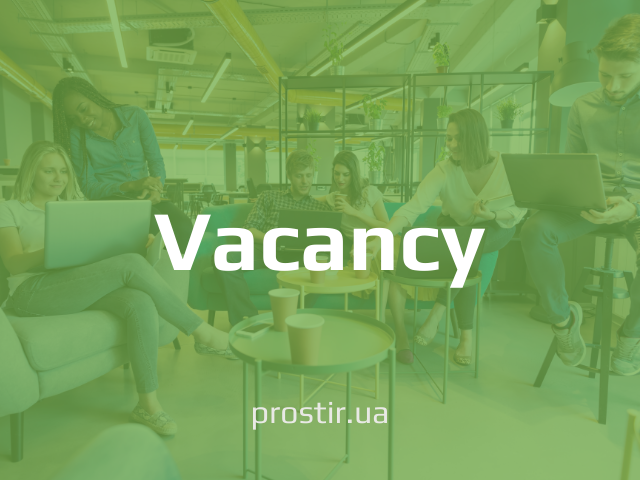 Post Title: Procurement and Logistic Associate
Post Level: SB3Q1
Position number: 00170589
Duration of the 12 months with possible extension
service: Full time
Duty Station: Kyiv
Supervisor: Operations Manager
Background Information:
In accordance with the organizational mandate and national development priorities of Ukraine, UNFPA, the United Nations Population Fund, implements a country programme of technical assistance to Ukraine for 2018-2022. With its 3rd Country Programme UNFPA Ukraine makes a strong focus on investing in the abilities of young people, especially young women and girls, to make responsible choices about their lives and contributing to the legal and social adoption of more equitable gender norms, including the right to live free from stereotypes, coercion and violence.
Organizational context:
Under the guidance of Operations Manager, Procurement and Logistic Associate provides procurement and logistic support to the office. S/he is responsible for execution and coordination of procurement activities.
Major Duties and Responsibilities:
● Conducts procurement activities and logistical coordination on behalf of the COs;
● Prepares Requests for Quotations (RFQs), Invitation to Bids (ITBs)/Request for Proposals (RFPs). Responds to all request for bid clarifications from the prospective bidder while ensuring transparency of the process, evaluates bids received and reviews recommendations from the technical panel and financial panel ensuring that the evaluation process is performed consistent with the requirement specified in the bid, prepares Contracts Review Committee (CRC) submissions whenever applicable and/or negotiations with suppliers to ensure that the most cost effective proposals are selected;
● Consults with requestors on specifications, advises on the best processes and initiates purchase procedures;
● Conducts market research to identify potential suppliers for goods and services to be procured;
● Analyzes requisitions; communicates with CO programme team to ensure correctness of the data entered into the Atlas system, clarity of the specifications, appropriateness of the products, quantities, delivery requirements and dates;
● Processes, issues and manages Purchase Orders using the Enterprise Resource Planning (ERP) system of UNFPA after ensuring completeness of the requests to reflect vital details and confirming that the most cost effective proposals are selected, communicated and followed up with the customers;
● Issues POs in accordance with the guidelines provided by the Procurement Service Branch;
● Provide logistic support for delivery of goods and services as stipulated in the Purchases Orders; liaises with the suppliers;
● Review logistics documentation ensuring that all necessary documents are properly prepared;
● Ensure timely distribution of shipping documents and related documents to local service providers (custom broker, shipping agents, warehouse service providers);
● Ensure timely delivery and proper transfer of products to the recipient;
● Monitors and evaluates the performance of suppliers with respect to on-time delivery, communication, quality and commercial acceptability;
● Ensures that all correspondence and documents related to procurement activities are properly filed in the designated e-filing system. Maintains and monitors the development of all procurement cases using electronic sheets;
● Maintains the services of joint LTAs;
● Follows up on the execution of procurement plan by Programme team;
● Work with other UN organizations to establish Memorandums of Agreement (MOAs) on joint procurement.
Qualifications and Experience
Education:
● Bachelor's degree in procurement, logistics, finance, economics, management or other related field.
Experience:
● 3 years of relevant experience in procurement, logistics, administration/office management, finance
● Proficiency in current office software applications and corporate IT financial systems
● Proficiency in use of spreadsheets, word processing and computerized accounting systems is an asset
● Experience in projects funded by international donors is highly desirable.
Language:
Fluency in Ukrainian, English and Russian languages.
Values:
• Exemplifying integrity
• Demonstrating commitment to UNFPA and the UN System
• Embracing cultural diversity
• Embracing change Functional Competencies:
• Managing the organization's financial resources
• Providing procurement services
• Ensuring facilities and assets management
• Providing logistical support (knowledge of INCOTERMS-2010 is desirable)
• Managing data
• Managing documents, correspondence and reports
• Managing information and work flow
• Planning, organizing and multitasking
• Supporting financial data analysis
Core Competencies:
• Achieving results
• Being accountable
• Developing and applying professional expertise/business acumen
• Thinking analytically and strategically
• Working in teams/ managing ourselves and our relationships
• Communicating for impact Managerial Competencies:
• Providing strategic focus
• Engaging internal/external partners and stakeholders
• Leading, developing and empowering people/ creating a culture of performance
• Making decisions and exercising judgment
Please apply for the position by 14 July 2021