Panel Physician в IOM Ukraine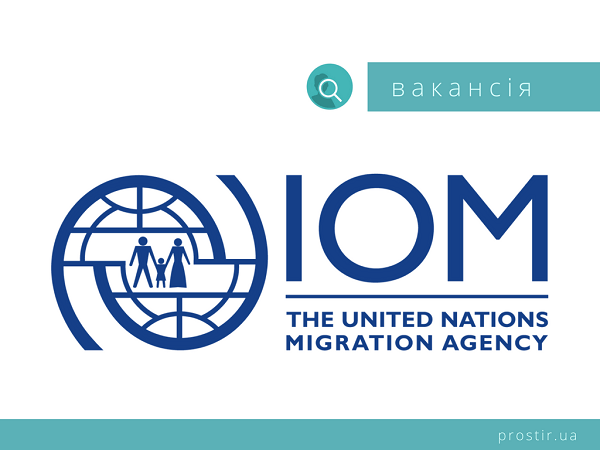 Open to Internal and External Candidates
| | | |
| --- | --- | --- |
| Position Title | : | Panel Physician |
| Duty Station | : | Kyiv, Ukraine |
| Classification | : | NO-A |
| Type of Appointment | : | SST, 6 months, with possibility of extension |
| Closing Date | : | 25 May 2018 |
Established in 1951, IOM is the leading inter-governmental organization in the field of migration and works closely with governmental, intergovernmental and non-governmental partners. IOM is dedicated to promoting humane and orderly migration for the benefit of all. It does so by providing services and advice to governments and migrants.
Context:
The candidate will work, together with IOM physicians, chiefly on medical health activities, under the direct supervision of the Chief Medical Officer (CMO) and the general supervision of the Chief of Mission, will be responsible for the implementation of IOM migration health activities in Ukraine.
Core Functions / Responsibilities:
Provide quality migration health assessments according to technical and public health requirements of the receiving countries such USA, Canada, Australia, New Zealand and other countries, if applicable.

Ensure that immigration health assessment programmes fulfil the requirements of the resettlement countries, including standardization of all aspects of the medical examination and documentation process; medical treatment programmes and immunization programmes.

Preserve privacy and confidentiality of obtained information from the examinees.

Assist the CMO, and IOM physicians to classify abnormal cases, to recommend furtherance of abnormal cases, when appropriate, and finalize "on hold" cases, as necessary.

Actively participate in organization of the pre-departure check-ups and perform medical escort duties as well as medical procurements related to the health assessment programmes.

Ensure that all relevant data generated by IOM health programmes is collected systematically and in a standardized manner.  Assist in analysis, presentation and publication of migration health programmes as necessary or as required by clients.

Assist in development and implementation migration health activities and programs on HIV/AIDS, Tuberculosis and mental health in collaboration with national, regional and international partners, agencies and organizations and in close coordination with relevant Missions.

Assist in non-health assessment related programme development activities in coordination with the CMO and the Chief of Mission.

Ensure that all relevant data gathered through research activities in collaboration with partners are consolidated, analysed and/or published as necessary.

Perform such other duties as may be assigned.
Required qualifications and experience
Education
• Bachelor's Degree or Equivalent degree of medical doctor with licence to practice in Ukraine from an accredited academic institution. Public Health MPH degree or specialization in internal medicine – preferable in Pulmonology is a strong advantage.
or
• Master's Degree preferably of medical doctor with licence to practice in Ukraine from an accredited academic institution with no relevant work experience. Public Health MPH degree or specialization in internal medicine – preferable in Pulmonology is a strong advantage.
Experience
Two years professional experience. Working in international organizations and experience in practicing of evidence based medicine will be an advantage.

Computer literacy and good knowledge of the MS Office application; excellent written and communication skills; possesses liaison and negotiation skills; strong organizational capability; proven written and analytical skills; effective resource management skills; ability to work well under pressure; proven ability to produce quality work to set deadlines.
Languages
Fluency in English, Ukrainian and Russian is required.
Required Competencies
Behavioural
Accountability
Accepts and gives constructive criticism

Follows all relevant procedures, processes, and policies

Meets deadline, cost, and quality requirements for outputs

Monitors own work to correct errors

Takes responsibility for meeting commitments and for any shortcomings
Client Orientation
Identifies the immediate and peripheral clients of own work

Establishes and maintains effective working relationships with clients

Identifies and monitors changes in the needs of clients, including donors, governments, and project beneficiaries

Keeps clients informed of developments and setbacks
Continuous Learning
• Contributes to colleagues' learning
• Demonstrates interest in improving relevant skills
• Demonstrates interest in acquiring skills relevant to other functional areas
• Keeps abreast of developments in own professional area
Communication
• Actively shares relevant information
• Clearly communicates, and listens to feedback on, changing priorities and procedures
• Writes clearly and effectively, adapting wording and style to the intended audience
• Listens effectively and communicates clearly, adapting delivery to the Audience
Creativity and Initiative
• Actively seeks new ways of improving programmes or services
• Expands responsibilities while maintaining existing ones
• Persuades others to consider new ideas
• Proactively develops new ways to resolve problems
Leadership and Negotiation
• Convinces others to share resources
• Actively identifies opportunities for and promotes organizational change
• Presents goals as shared interests
• Articulates vision to motivate colleagues and follows through with Commitments
Performance Management
• Provides constructive feedback to colleagues
• Identifies ways for their staff to develop their abilities and careers
• Provides fair, accurate, timely, and constructive staff evaluations
• Uses staff evaluations appropriately in recruitment and other relevant HR procedures
• Holds directly reporting managers accountable for providing fair,
accurate, timely, and constructive staff evaluations
Planning and Organizing
• Sets clear and achievable goals consistent with agreed priorities for self and others
• Identifies priority activities and assignments for self and others
• Organizes and documents work to allow for planned and unplanned handovers
• Identifies risks and makes contingency plans
• Adjusts priorities and plans to achieve goals
• Allocates appropriate times and resources for own work and that of team members
Professionalism
• Effectively applies knowledge of health issues in execution of responsibilities at appropriate level
• Maintains confidentiality and discretion in appropriate areas of work
• Masters subject matter related to responsibilities
• Identifies issues, opportunities, and risks central to responsibilities
• Incorporates gender-related needs, perspectives, and concerns, and promotes equal gender participation
• Persistent, calm, and polite in the face of challenges and stress
• Treats all colleagues with respect and dignity
• Works effectively with people from different cultures by adapting to relevant cultural contexts
• Knowledgeable about and promotes IOM core mandate and migration solutions
Teamwork
• Actively contributes to an effective, collegial, and agreeable team environment
• Contributes to, and follows team objectives
• Gives credit where credit is due
• Seeks input and feedback from others
• Delegates tasks and responsibilities as appropriate
• Actively supports and implements final group decisions
• Takes joint responsibility for team's work
Technological Awareness
• Learns about developments in available technology
• Proactively identifies and advocates for cost-efficient technology solutions
• Understands applicability and limitation of technology and seeks to apply it to appropriate work
Resource Mobilization
• Establishes realistic resource requirements to meet IOM needs
Other
Appointment will be subject to certification that the candidate is medically fit for appointment and security clearances.
A prerequisite for taking up the position is legal residency in the country of the duty station and work permit, as applicable.
How to apply:
Interested candidates are invited to submit their applications on IOM Personal History Form (http://iom.org.ua/en/personal_history or iom.org.ua/sites/default/files/personal_history_form_0.xls) to [email protected] by 25 May 2018 at the latest, referring to this advertisement in the subject line of your message.
Only shortlisted candidates will be contacted.
Posting period:
From 11.05.2018 to 25.05.2018
Джерело: IOM Ukraine.