Керівник/-иця регіонального субпроєкту до Представництва DVV International в Україні
ЗАВЕРШЕНО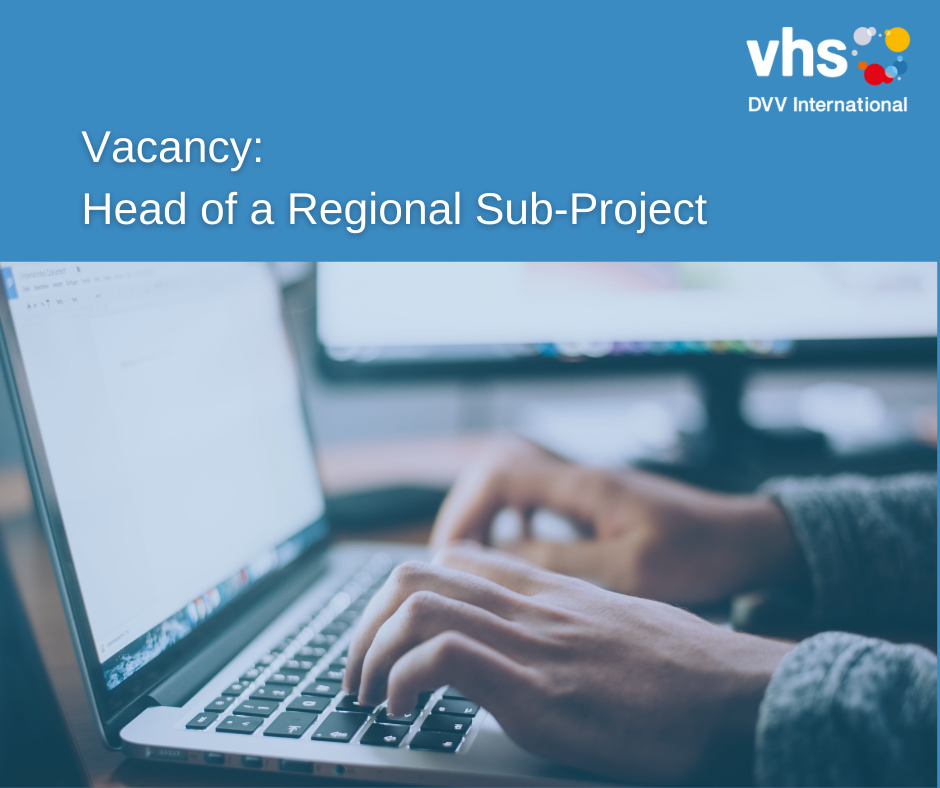 Job title: Head of regional sub-project 
Employer: DVV International Ukraine
Location: Kyiv, Ukraine
Employment status: Full-time employment
Remuneration: Competitive local salary
Reports to: Regional director in Kyiv
Deadline: 18 February 2022, 05:00 pm (Kyiv time)
DVV International is the Institute for International Cooperation of the Deutscher Volkshochschul- Verband e.V. (DVV), the German Adult Education Association. DVV represents the interests of the approximately 900 adult education centres (Volkshochschulen – VHS) and their state associations, the largest further education providers in Germany.
As the leading professional organisation in the field of adult learning & education (ALE) and development cooperation, DVV International has committed itself to promote the right for lifelong learning worldwide and has been implementing country programs of development cooperation in Africa, Asia, Latin America and Europe for more than 50 years. DVV International strengthens national ALE-systems in partner countries and provides support for the establishment and development of sustainable structures for youth and adult education. The project approach of DVV International targets improved conditions in policy, legislation and financing (macro level) as well as promotion of professionalisation in practice and theory of ALE (meso level) and requires cooperation both with government institutions such as ministries as well as with civil society organisations, universities, and other educational providers. By supporting our partners (usually, adult education centres), in developing and piloting exemplary concrete learning offers (micro level), especially for disadvantaged population groups, we create best practice and evidence of the benefit of ALE.
DVV International finances its work through funds from the German Federal Ministry for Economic Cooperation and Development (BMZ), the German Federal Foreign Office, the European Union, etc.
For its Regional Office in Kyiv / Ukraine (established in 2010), DVV International is announcing a vacancy for the full-time position of the Head of regional sub-project Major responsibilities and duties:
Leading and management of a project team consisting of 4-5 persons;
Implementation of the regional (the project targets mainly 7 countries from Eastern and South-Eastern Europe (Armenia, Belarus, Bosnia and Herzegovina, Georgia, Kosovo, Republic of Moldova, Ukraine) adult education project /2022-2024/ (incl. its financial management) on the meso and macro levels according to the project proposal and by respecting the relevant guidelines of DVV International and the donor agency;
Achievement of the planned results; monitoring and evaluation; reporting;
Further conceptual development of the project and its approaches;
Development of project proposal(s) for further fundraising;
Representation of the project, communication and dealing with actors/stakeholders (governmental bodies, partner organizations, experts, donors, etc.) from the region;
Other similar duties.
Requirements:
Masters' degree in education, management, political studies, economics, or other relevant fields;
Profound experience in education sector (preferably in adult education, lifelong learning, vocational education and training, non-formal learning) or in development cooperation sector;
Demonstrated understanding of educational policy and development cooperation issues;
At least 5-year experience in management of NGO or in adequate managerial position at international organization or governmental body;
Solid budgeting and financial management competence;
Profound experience in project management (elaboration, implementation, monitoring, evaluation);
Excellent analytical and writing/reporting skills;
Fluency in English and Russian;
Knowledge of German would be an asset. Other foreign languages are desirable;
Intercultural sensitiveness and ability for team play;
Computer literacy (competent use of popular office programmes);
Readiness for travel within the country and abroad.
Beginning: ASAP (f. i. in March 2022).
If you are interested in the position and meet all requirements, you can submit your full electronic application (Motivation letter and CV) in English to [email protected] and [email protected] no later than 18.02.2022 17:00. Please, specify in the subject line of your message the position name ('Head of regional sub-project'/) only. Only short-listed applicants will be contacted for an interview (where all diploma mentioned in the CV should be presented in original). Incomplete applications will be rejected. No phone calls, please.