Junior Electricity Specialist/Молодший фахівець з електроенергетики
ЗАВЕРШЕНО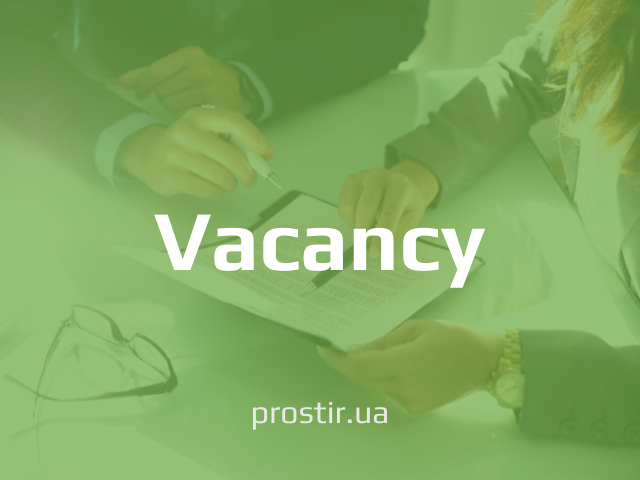 Junior electricity specialist
The Energy Security Project (ESP) is a five-year project funded by the United States Agency for International Development (USAID)[1] and the largest USAID project in Ukraine so far. The ESP is implemented by a USAID Contractor, Tetra Tech ES, Inc., a California-based leading provider of services in the areas of water, environment, infrastructure, resource management, energy, and international development.[2]
The ESP mission is to enhance Ukraine's energy security, improve the energy legal and regulatory environment in the country, and increase the resilience of Ukraine's energy supply. This will help to support country's economic development and sustain its democracy. ESP is working closely with the Government of Ukraine (GOU) to develop competitive energy markets. By doing so, ESP will facilitate private sector-led energy investments to provide affordable, reliable, resilient, and secure energy for all Ukrainians.
Position Summary:
Tetra Tech ES, Inc., implementing the USAID Energy Security Project, is looking for the young and talented individuals who would like to pursue their career in Energy Sector to fill in the position of Junior Electricity Specialist. This individual will provide technical, project management, administrative and logistics support to the Electricity Team. The Junior Electricity Specialist will also closely work with the entire project team to plan, coordinate and track program support services and activities. The Junior Electricity Specialist will conduct research, collect data and manage libraries of information. The Junior Specialist will report to Senior Electricity Expert with the ultimate supervision of the Senior Electricity Regulatory Manager. This is an entry-level full-time position based in Kyiv and which will provide a unique opportunity to work directly with the international and Ukrainian Technical Experts.
This is a full-time position based in Kyiv. Occasional travel within Ukraine may be required.
**Please note: Only citizens of Ukraine are eligible for this position. **
Responsibilities:
Conduct evidence-based analysis on electricity market trends, prepare regular market monitoring reports and propose recommendations to facilitate competitive development of the market;
Conduct research on a variety of topics in the electricity sector such as electricity sector market, reform, policy and regulation, electricity finance, renewable energy;
Support the preparation of technical presentations, reports, papers and other deliverables;
Coordinate team input into reports;
Provide meeting support: prepare agendas, take and distribute meeting minutes, and follow up on action items;
Maintain shared folder of project documents, reports, photos and other information;
Assist task leads with drafting work plans, and updating project trackers, etc.;
Build and maintain strong partnerships and effective coordination among relevant stakeholders (for example, USAID and other international donors, government bodies, non-governmental organizations or other relevant partners).
Master's or bachelor's degree or equivalent in engineering, economics or another related field is preferred;
Must speak, read and write in English and Ukrainian;
Excellent writing and communication skills;
Able to communicate complex information and deliver verbal and written messages effectively;
Good analytical and problem-solving skills;
Strong research capabilities, using a variety of primary and secondary sources;
Strong organizational, teamwork and technical skills;
Must be able to manage several tasks simultaneously and re-prioritize as necessary;
Must work effectively under deadlines, both independently and as a team member;
Must be able to use discretion with confidential business matters;
Must be able to produce accurate and complete documents in a timely manner;
Must have excellent listening skills and highly developed sense of responsibility and commitment to customer service;
Demonstrated experience in quantitative analysis and reporting of electricity market trends and strategies;
Understanding of electricity market dynamics and price formation mechanisms in different segments of the market, as well as electricity market integration/coupling compliant with EU energy acquis;
Support the development of an effective electricity market surveillance and monitoring mechanism;
Provide advice and guidance on electricity market design and policy implementation.
Provide technical assistance to organization of conferences and workshops targeting electricity sector;
Support management of project activities towards development of competitive electricity market mechanisms (for example, day-ahead, intra-day, real-time balancing markets, bilateral trade, supplier switching, etc.).;
Provide technical assistance to strategic planning and capacity development components of the project implementation;
Qualifications:
To apply: Please submit a CV in English and a brief cover letter with the title of the position in the subject line to [email protected] 
There is no deadline associated with this position, Tetra Tech may fill the position when a qualified person is found.  Only candidates who have been selected for an interview will be contacted. 
To find more about USAID Energy Security Project, visit the Project website https://energysecurityua.org, follow us on Facebook https://www.facebook.com/usaidesp/, LinkedIn https://www.linkedin.com/company/energysecurityua/ and Youtube
[2] http://www.tetratech.com/en/markets/international-development