IWPR терміново шукає Justice Report Reporter, Ukraine
ЗАВЕРШЕНО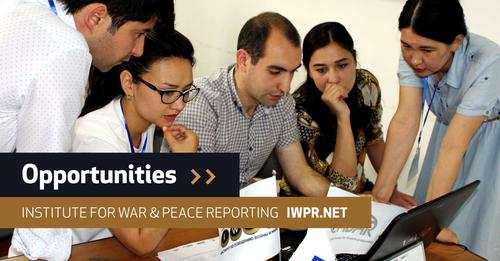 IWPR's Ukraine Voices project (May – November 2022) supports Ukrainian journalists reporting on the Russian invasion of their country. As part of this, the Justice Report project focuses on reporting and analysis of the judicial processes taking place in Ukraine linked to war crimes.
The scale and complexity of judicial proceedings are creating a challenge for media coverage, which tends to focus on high points – such as the first and the last days of a trial – but it neglects critical procedural aspects or detailed trial content; legal complexities; resource realities; and other challenges in actually establishing justice.
The Ukraine Justice Report:
 Informs Ukrainian and international specialists, as well as the media and diplomatic community, about justice processes;
Supports and develop a network of expert Ukrainian justice reporters;
Creates a long-term information resource and archive on the justice effort
It is overseen by a dedicated editor based in Ukraine, alongside strong editorial support based in the UK. Content is supported by a team of journalists and Ukrainian university students, and will incorporate Ukrainian media (both Ukrainian and Russian language) as well as critical social media outputs.
All content will be produced in Ukrainian and English, with translation, subtitles or overdubs, as necessary. The Ukraine Justice Report will initially be published via established IWPR channels and social media pages. These will be promoted strongly by IWPR's array of relevant sites and accounts, including by relevant team members. A network of organisations and individuals will also be encouraged to republish the Ukraine Justice Report's content.
The scope of work is as follows:
Assist with reporting inputs for a weekly briefing on justice processes related to the ongoing war. This will include building and maintaining relationships with Office of the General Prosecutors and other officials and human rights groups, and gathering regular updated information as a "beat" reporter.
Assist with case-oriented analysis of ongoing processes.
Reformat weekly briefing to share through social media channels.
Commission and edit features, investigations, analysis of justice issues.
Build agreements with a network of relevant organisations, including local umbrella groups, to republish and produce Justice Report materials.
Organize appropriate translation for output in Ukrainian and English, as needed.
The editor will assist journalists and contributors with supplementary research, if necessary.
Coordinate with translators, as appropriate, and evaluate English language and translation quality.
Review, proofread and edit articles and multimedia productions.
Provide assistance to the Ukraine Justice editorial team in production and publication.
Assist with additional aspects of publication production, including searching for relevant multimedia components (photo, video, audio, photo-essays).
Participate in project publication meetings.
The successful candidate will be:
An experienced Ukrainian reporter and editor with an existing knowledge of or strong interest in justice, war crimes and the relevant legal and human rights community on the issue. 
They will have the  ability to serve as a "beat" reporter and editor, writing and commissioning, producing content and connecting to relevant professional and activist community. Responsible, able to write and edit, English language necessary. Part-time assignment.
Principals only. No calls please. Only those who have been considered for an interview will be contacted. 
IWPR is an equal opportunities employer and positively encourages applications from suitably qualified and eligible candidates regardless of sex, race, disability, age, sexual orientation, gender reassignment, religion or belief, marital status, veteran status or pregnancy and maternity. IWPR will never ask for payment for recruitment.
To APPLY- click HERE.