Асистент/ка проєктів
ЗАВЕРШЕНО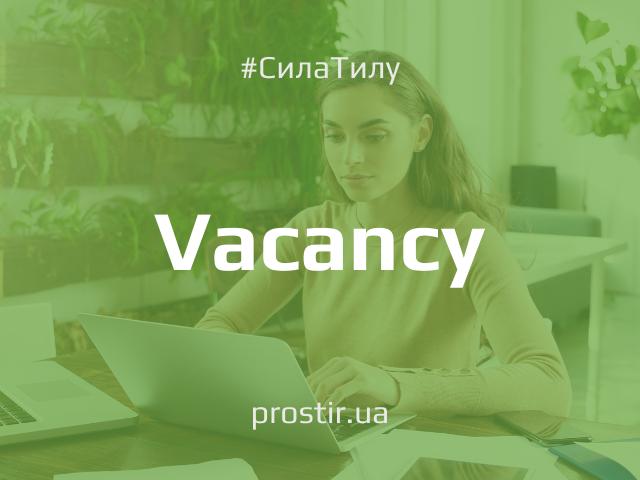 ПРООН в Україні шукає асистентів проєктів.
Кінцевий термін подання на вакансію: 28 січня 2023 року.
Посилання для заповнення резюме: https://estm.fa.em2.oraclecloud.com/hcmUI/CandidateExperience/en/sites/CX_1/job/7895.
UNDP is committed to achieving workforce diversity in terms of gender, nationality and culture. Individuals from minority groups, indigenous groups and persons with disabilities are equally encouraged to apply. All applications will be treated with the strictest confidence.
UNDP does not tolerate sexual exploitation and abuse, any kind of harassment, including sexual harassment, and discrimination. All selected candidates will, therefore, undergo rigorous reference and background checks.
Today Ukraine is facing its most serious challenges since achieving independence in 1991. The ongoing war has already resulted in significant loss of life, unprecedented displacement, internally and towards neighboring countries, and devastating destruction of infrastructure. The UN Ukraine Flash Appeal shows that at least 15.7 million people are in immediate need of emergency assistance and protection. Early projections indicate that if the war should continue in the medium to long term, up to 90% of the Ukrainian population could face poverty and extreme economic vulnerability, and the country's socio-economic progress could be set-back by almost 20 years. In the short-term, 62% of the population is at high risk of falling into poverty. Ukraine's economy is set to shrink by 45% this year due to the war and even with a moderate recovery in the next few years, by 2025 the GDP would still only be two-thirds of the pre-war GDP in 2021.
In addition, the country faces losses of many people's lives and devastative destruction of infrastructures and economic bases. Currently, more than 50% of the energy infrastructure damaged, causing the massive disruption of energy supply nationwide with millions of people experiencing power outages and challenges in heating. Extensive scale of destruction of infrastructure, rehabilitating or constructing infrastructures and installing equipment with necessary supply of the materials is urgently required to restore or maintain life-line and key basic services, followed by removal or mines and explosives as well as debris.
UNDP Ukraine is currently recruiting multiple Project Associate positions as per the following:
Project Associate for two projects: SDG BRIDGE Ukraine (Building Resilience for Implementing Development Goals Effectively) Project / Enhancing Crisis Management and Emergency Response Capacities at all levels of government authorities of Ukraine Project under the Democratic Governance Portfolio
Project Associate for two projects: Civil society and youth support Project / EU4Dialogue Project under the Democratic Governance Portfolio
Project Associates at the same level for other projects under various portfolios.
In this context, the Project Associate will be responsible for the overall support of implementation of the described projects and other related outputs related in the portfolio, performing a variety of standard operational services within the projects' frameworks ensuring high quality and accuracy of work. 
The Project Associate works in collaboration with the operations, programme and project staff in the UNDP Country Office to exchange information and ensure consistent services delivery.
The Project Associate will work closely with all projects' personnel and UNDP CO team to ensure relevant requirements are fulfilled in a timely manner with required quality, following the highest standards in line with UNDP guidelines and procedures.
The incumbent will accelerate gender equality and women's empowerment within all implementations and promote UNDP's mandate as a gender-responsive organization with zero tolerance to any kind of discriminatory and abusive behaviour, including sexual harassment, sexual exploitation and abuse.
 
Duties and Responsibilities
Under the direct supervision of the Project Manager and the overall guidance from the Portfolio Team Lead, the Project Associate provides ongoing project and administrative assistance and support to the projects, performing a variety of standard administrative processes ensuring high quality and accuracy of work.
Administrative Assistance in Project:
Perform administrative support functions to facilitate the implementation of the Project activities, including personnel matters, attendance records, facilitating missions, office maintenance, reception/registry; 
Contribute to the project annual and detailed project implementation work plans, procurement plans and reports preparation in quality and timely manner based on the requirements of the UNDP and programme donors; 
Facilitate project recruitments and personnel management;
Assure timely and accurate preparation and submission of the documents for selection processes and contract extensions; 
Participate in data collection, analysis and maintenance of project related database and files; keep accurate electronic and paper filing, information and records systems; 
Participate, as requested by management in project activities (meetings, round tables, conferences, other public activities); preparation, implementation and follow up, take meeting minutes etc.;
Provide logistical support, including travel arrangements, accommodation, visas, tickets, etc. to the project staff; 
Facilitate and provide full support to component monitoring, evaluation and audit missions, as well as missions of experts; 
Keep updated project inventory and assure that UNDP regulations on the equipment use, storage and proper maintenance are adhered. Assure that the project equipment transfer/disposal is being done in accordance with UNDP rules; 
Maintain the database of all stakeholders and partners; 
Liaise with UNDP Operations on a variety of the operations related issues: procurement, financial management and human resources; 
Provide assistance with project documents translation and interpretation as needed; 
Maintain stationery and office supplies, purchase office equipment when needed; 
Handle project correspondence; 
Provide support to various project activities at the national and sub-national levels;
Provide support to communication activities and events of the project;
Facilitate timely and proper preparation, collection and submission of full set of documents for the Project registration card;
Ensure mainstreaming of gender equality considerations in the project implementation, promote a safe and enabling environment free of any kind of discrimination and abusive behaviour.
Financial Assistance to Project:
Provide day-to-day management of the project financial operations in accordance with UNDP rules and regulations and relevant SOPs; 
Prepare and monitor operations budget, assist in preparation of project budget and maintain necessary budgetary controls and records; 
Prepare requests for direct payment to UNDP CO Finance unit in accordance with the approved project budget; 
Ensure process of payment requests and payments within the limits of the project budget; 
Prepare accurate budget revisions; 
Prepare requests for financial authorization to UNDP CO in accordance with the approved project budget; 
Prepare accurate financial reports, including monthly and quarterly disbursement reports and financial reports for donors; 
Monitor expenditures and prepare financial reports and forecasts; 
Implement the internal control system which ensures that Purchase orders are duly prepared and dispatched; 
Ensure timely corrective actions on purchase orders with budget check errors and other problems;
Maintain the filing system; 
Assist programme management in preparation/revision of Project Implementation Plan.
Operations/Procurement:
Facilitate the process of procurement and delivery of goods and services through tender/canvas processes in accordance with SOP;
Support to organization of procurement processes including vendor creation, e-requisitions etc.;
Support in organizing events through the LTA companies including checking and comparing the received proposals.
Communication Assistance:
Maintain updated database of the project counterparts, contractors, consultants, suppliers, collect relevant information on best services and expertise providers; 
Review press and publications for articles of interest to project and programme and circulate them to programme staff; 
Prepare project and programme related correspondence, maintain contacts with governmental and non-governmental institutions, local authorities, NGOs, academia, etc.; 
Ensure all project communications and training activities are in line with UNDP gender-responsive communications principles;
Facilitate project and programme related training/learning activities.
Support to other activities of the project:
Support the preparation of analysis, infographics, presentations on project budget planning, forecast and delivery;
Maintain component information calendar in IMS: events, trainings, mission and consultancies;
Assist in meetings, and draft minutes and correspondence as requested;
Prepare the interview reports;
Organize the reception of visitors;
Perform other duties as assigned by supervisor, and UNDP Ukraine Leadership.
 
Competencies
Core
Achieve Results:    
LEVEL 1: Plans and monitors own work, pays attention to details, delivers quality work by deadline.
Think Innovatively:    
LEVEL 1: Open to creative ideas/known risks, is pragmatic problem solver, makes improvements. 
Learn Continuously:    
LEVEL 1: Open minded and curious, shares knowledge, learns from mistakes, asks for feedback.
Adapt with Agility:    
LEVEL 1: Adapts to change, constructively handles ambiguity/uncertainty, is flexible. 
Act with Determination:     
LEVEL 1: Shows drive and motivation, able to deliver calmly in face of adversity, confident.
Engage and Partner:    
LEVEL 1: Demonstrates compassion/understanding towards others, forms positive relationships.
Enable Diversity and Inclusion:    
LEVEL 1: Appreciate/respect differences, aware of unconscious bias, confront discrimination. 
Cross-Functional & Technical competencies 
Business Development
Knowledge Facilitation
Ability to animate individuals and communities of contributors to participate and share, particularly externally
Administration & Operations    
Documents and records management    
Overall document (hard or electronic) management; registry and retention policy including storing and archiving
Events management (including retreats, trainings and meetings)        
Ability to manage events, including venue identification, accommodation, logistics, catering, transportation, and cash disbursements, etc.
Finance    
Budget management    
Ability to support budgetary aspects of work planning process, drawing and management of team budgets
Financial reporting and analysis        
Understands changes in regulatory, legal and ethical frameworks and standards for financial reporting in the public sector. Ability to extract, evaluate financial data, derive relevant findings and present them in a meaningful and coherent manner to facilitate effective decision making and performance monitoring. Understands the benefits of integrated reporting, including non-financial resources such as human, social and intellectual capital, and environmental and governance performance
Procurement    
Contract management    
Knowledge of contract management concepts, principles and methods, and ability to apply this to strategic and/or practical situations
Partnership management    
CSO engagement    
Knowledge and understanding of CSOs and the ability to engage with CSOs
Required Skills and Experience
Education:
Secondary school graduation is required;
Bachelor's degree in Business Administration, Management, Economics, Human Resources, Finance, Accounting, Social Sciences, or other related fields will be given due consideration.
Experience:
Minimum 6 years (with secondary education) or 3 years (with bachelor's degree) of practical experience of working in the field of administration, finance, programme/project support or other relevant fields.
Desired Skills:
Experience in administrative or development assistance or related work for an international institution/programme, non-profit organization or commercial company will be considered an advantage.
Experience in organizing events (including retreats, trainings, meetings, etc.) will be considered an advantage.
Experience of working with ERP systems and/or handling of web-based management systems will be an asset.
Proficiency in use of office software packages (MS Word, Excel, etc.) and advance knowledge of spreadsheet and database packages.
Required Language(s):
Fluency in English and Ukrainian, both spoken and written, is required.
This is a national position. Only Ukrainian nationals are eligible to apply for this position. 
Disclaimer
Important information for US Permanent Residents ('Green Card' holders) 
Under US immigration law, acceptance of a staff position with UNDP, an international organization, may have significant implications for US Permanent Residents. UNDP advises applicants for all professional level posts that they must relinquish their US Permanent Resident status and accept a G-4 visa, or have submitted a valid application for US citizenship prior to commencement of employment. 
UNDP is not in a position to provide advice or assistance on applying for US citizenship and therefore applicants are advised to seek the advice of competent immigration lawyers regarding any applications.
Applicant information about UNDP rosters
Note: UNDP reserves the right to select one or more candidates from this vacancy announcement.  We may also retain applications and consider candidates applying to this post for other similar positions with UNDP at the same grade level and with similar job description, experience and educational requirements.
Scam warning
The United Nations does not charge any application, processing, training, interviewing, testing or other fee in connection with the application or recruitment process. Should you receive a solicitation for the payment of a fee, please disregard it. Furthermore, please note that emblems, logos, names and addresses are easily copied and reproduced. Therefore, you are advised to apply particular care when submitting personal information on the web.