Advocacy Coordinator / Координатор/ка з адвокації
ЗАВЕРШЕНО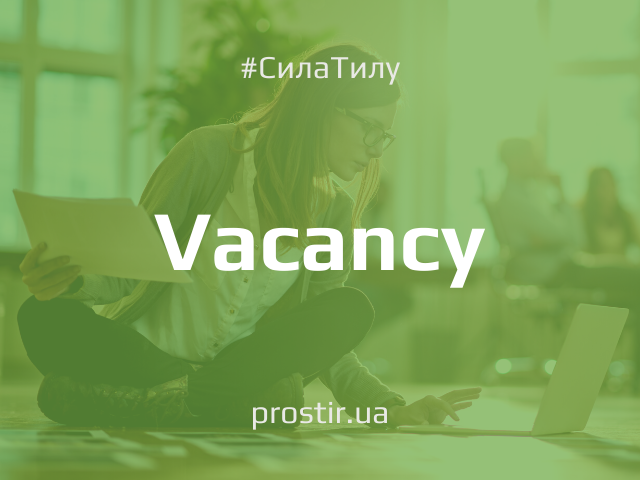 About Us
The Norwegian Refugee Council (NRC) is an independent humanitarian organisation helping people forced to flee. We work in crises across more than 31 countries, providing emergencies and long-term assistance to millions of people every year. We stand up for people forced to flee, advocating their rights. NORCAP, our global provider of expertise, helps improve international and local ability to prevent, prepare for, respond to and recover from crises. NRC also runs the Internal Displacement Monitoring Centre in Geneva, a global leader in reporting on and advocating for people displaced within their own country.
Employment with NRC may lead to employment in or deployment to Regions, Countries, Areas or Offices that may be host to considerable health, safety and security risks. NRC takes this very seriously and we have procedures in place to reduce known risks, but will never be able to take away all risks.
NRC is an equal opportunities employer and aims to have staffing diversity in terms of age, gender, ethnicity, nationality and physical ability.
Job Description
Role and responsibilities
The Advocacy Coordinator, working under the supervision of the Advocacy Manager, will contribute to design and implementation of NRC Ukraine's Advocacy strategy with a particular focus on humanitarian access, protection of IDPs and other communities affected by the war.
Generic responsibilities:
Ensure adherence to NRC policies, handbooks, guidelines, donor requirements
Prepare and submit reports and analysis
Ensure proper filing of documentation
Contribute to specific protection risks and needs analyses
Contribute to the design of programmatic, protection and advocacy response
Contribute to effective coordination in the area of advocacy at different levels
Maintain the close collaboration and communication with NRC programmes
Specific responsibilities:
Contribute to design and implementation of NRC Ukraine's advocacy & programmatic responses
Support Advocacy Manager to design and to implement advocacy interventions (including developing advocacy tools, organizing advocacy events, conducting policy meetings, etc.)
Liaise with the national, regional and local authorities and support the process of building cooperation with them, including developing the memorandums, joint action plans, reports, etc.
Establish and maintain effective communication and coordination with the key advocacy stakeholders within formal and informal coordination forums/working groups/clusters, including local civil society actors, (i)NGOs, donors, UN agencies, etc.
Work closely with the Advocacy Manager, advocacy team and programmes to develop advocacy messages on the key protection issues
Conduct legal and policy research and provide timely and context-specific information updates to internal and external stakeholders on the humanitarian situation in Ukraine, policy and legal developments
Manage budgets, implement project activities and ensure quality and timely reporting within advocacy projects/interventions
Develop and deliver advocacy trainings
Develop context-specific expert recommendations to the authorities at the different levels of governance to promote rights- and evidence-based policy responses
Work closely and coordinate with the Communications Coordinator and Advocacy Manager on the design and implementation of the communication strategy
Any other duties as required to support the design and implementation of NRC Ukraine's advocacy strategy as requested by the Advocacy Manager
Competencies
Professional competencies
Generic professional competencies for this position:
University degree in social or political sciences, sociology, law, human rights, development studies or other similar subject (international academic background would be an asset)
At least 3 years of progressively responsible work experience in human rights, policy, research or advocacy
Prior experience working in humanitarian and displacement context
Prior experience working with local, regional, national governments and/or national/international organisations, local civil society
Context related skills, knowledge and experience:
Practical experience in coordination, design and implementation of advocacy interventions at different levels
Excellent communication skills, both written and verbal
Fluency in Ukrainian, Russian and English
Excellent drafting skills (e.g. reports, analytical documents, etc.)
Strong research and analytical skills (context, legal and policy), ability to understand and apply complex socio-cultural contexts, policy/legal frameworks to data and programmatic evidence and vice-versa
Strong interpersonal, negotiation, presentation skills
Strong understanding of the current context in Ukraine, displacement and durable solutions' challenges and knowledge of the relevant international law & standards
Good understanding of the national, regional and local frameworks on protection of the war-affected communities and IDPs (for example, in the area of access to civil documentation, freedom of movement, IDP assistance and registration, access to essential services, pensions, social payments, etc.)
Behavioral competencies:
Managing resources to optimize results
Managing performance and development
Analyzing
Handling insecure environments
Empowering and building trust
We offer:
Type of contract: national employment contract till 31.12.2022 (with possible extension)
Salary/benefits: According to NRC salary scale, terms and conditions.
Duty station: Kyiv, Ukraine.
This position is for Ukrainian nationals only.
To apply for this position please follow the link.
Please note that we will contact only shortlisted candidates.
NRC retains the discretion to cancel the recruitment.
NRC might review applications before advert deadline, therefore interested candidates are encouraged to apply early.