Youth Assistant до UNFPA Україна
ЗАВЕРШЕНО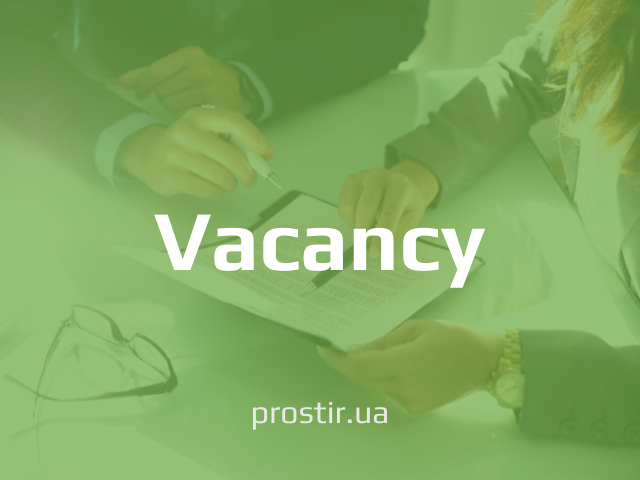 Host entity UNFPA
Country Ukraine
Location, Country Kyiv (UKR)
Language skills Ukrainian, English
Expected Starting Date Immediate
Duration 12 months with possiblity of extension
Application deadline 22 July 2021
Eligibility criteria
Minimum age: 22 years old. Applicants must be nationals of or legal residents in the country of assignment.
Description of task
Within the delegated authority and under the supervision of Assistant Representative or his designated mandated representative(s), the National UN Volunteer will:
Support the UNFPA CO in communication and awareness raising activities, with particular focus on Youth program;
Serve as coordinator and a focal point for Youth Wellbeing Index project, ensuring proper function of existent YWBI online platform;
Coordinate and oversee activities of YWBI project, build strong cooperation with local authorities, business and other partners;
Coordinate all work-related process and activities with new potential municipalities as well as all activities with municipalities where YWBI is already being implemented;
Assist in planning, coordination and realization of YWBI trainings and Youth Well-being Forum;
Develop project-related tools (databases, tabs, presentations, registration forms etc.);
Provide general assistance as needed to support the Program, including arranging events, meetings, participation in presentations;
Assist in producing media materials for placement in UNFPA social media and website;
Advocate UNFPA projects and initiatives at national and subnational level, engaging local authorities and young people;
Empower young people in the cities to take proactive roles in the development of their cities;
Any other related tasks as may be required or assigned by the supervisor.
Furthermore, UN Volunteers are encouraged to integrate the UN Volunteers programme mandate within their assignment and promote voluntary action through engagement with communities in the course of their work. As such, UN Volunteers should dedicate a part of their working time to some of the following suggested activities:
Strengthen their knowledge and understanding of the concept of volunteerism by reading relevant UNV and external publications and take active part in UNV activities (for instance in events that mark International Volunteer Day);
Be acquainted with and build on traditional and/or local forms of volunteerism in the host country;
Provide annual and end of assignment self-reports on UN Volunteer actions, results and opportunities.
Contribute articles/write-ups on field experiences and submit them for UNV publications/websites, newsletters, press releases, etc.;
Assist with the UNV Buddy Programme for newly-arrived UN Volunteers;
Promote or advise local groups in the use of online volunteering or encourage relevant local individuals and organizations to use the UNV Online Volunteering service whenever technically possible.
Qualifications/Requirements
Required degree level
Bachelor degree or equivalent
Educational additional comments
Bachelor's degree, preferably in public administration, communication, sociology, political and social sciences or related fields.
Required experience
12 Months
Experience remark
Good research and analytical skills, and ability to multi-task and prioritize workload;
Demonstrated interest in and/or experience in the areas of youth empowerment, youth engagement and leadership;
Motivation to contribute towards youth development and to serve others.
Language skills
Ukrainian(Mandatory), Level – Fluent
English(Mandatory), Level – Working Knowledge
Area of expertise
Youth and sports, Other communications related experience, Other development programme/project experience
Area of expertise details
Knowledge in youth development programs would be considered as an advantage.
Driving license
Competencies values
Adaptability and Flexibility, Commitment and Motivation, Commitment to Continuous Learning, Communication, Ethics and Values, Integrity, Managing Performance, Professionalism, Respect for Diversity, Working in Teams
Application procedure
* Not yet registered in the UNV Talent Pool? Please first register your profile at https://vmam.unv.org/candidate/signup. Important: After creating your account, complete all sections of your profile and submit it. Then go to 'My Page' at https://vmam.unv.org/candidate/mypage and click on the 'Special Calls' hyperlink. Lastly, select the special call to which you would like to apply. * Already registered in the UNV Talent Pool? Please first update your profile at https://vmam.unv.org/candidate/profile. Then go to 'My Page' at https://vmam.unv.org/candidate/mypage and click on the 'Special Calls' hyperlink to select the special call to which you would like to apply. This is a national UN Volunteer assignment, therefore only nationals of Ukraine and legal residents in Ukraine with the status of refugee or with the status of being stateless are eligible to apply.
Application deadline: 22-07-2021
APPLY HERE