Вакансія: Youth Economic Opportunities Lead
ЗАВЕРШЕНО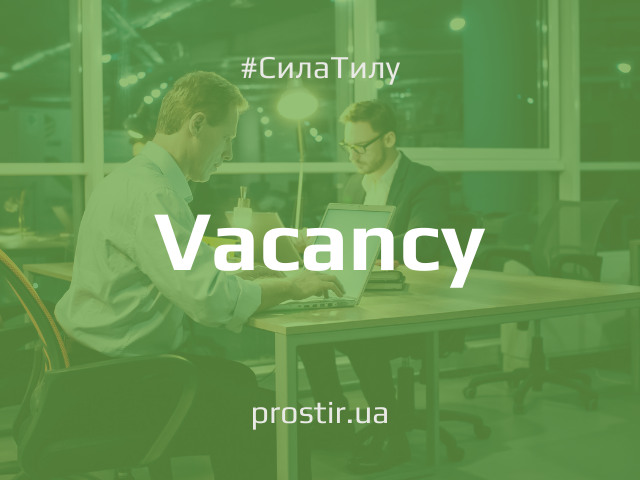 Job Details
Description
Who We Are
IREX is a global development and education organization. We strive for a more just, prosperous, and inclusive world—where individuals reach their full potential, governments serve their people, and communities thrive. With a projected annual portfolio of more than $100 million and more than 600 staff worldwide, we work with partners in more than 100 countries in four areas essential to progress: cultivating leaders, empowering youth, strengthening institutions, and increasing access to quality education and information.
IREX in Ukraine is seeking a qualified Youth Economic Opportunities Lead for the Ukraine National Identity Through Youth (UNITY) program. UNITY (Mriemo ta diemo) program is funded by the United States Agency for International Development (USAID) and implemented by IREX in partnership with Building Ukraine Together (BUR), Center for Corporate Social Responsibility (CSR Ukraine), Making Cents International (MCI), International Republican Institute (IRI), and Zinc Network. This five-year activity launched in 2020 is designed to foster vested ownership among Ukrainian youth in their country's democratic, European future by further mobilizing youth leadership around a values-based conception of Ukrainian identity grounded in innovation, engagement, and pluralism.  
Under the supervision of the Deputy Chief of Party, the Youth Economic Opportunities Lead will manage programming under Objective 1 of the UNITY program: expanding economic opportunities through youth innovation, entrepreneurship, and career preparedness in growth industries. He or she will provide technical and project management expertise and be responsible for the design and oversight of activities implemented both directly and through subawardees. S/he will coordinate among multiple program partners and stakeholders, including relevant government agencies, to ensure synergy of efforts and efficient delivery. He/she needs to have strong project management skills, experience of leading a team, and ability to make programmatic recommendations grounded in economic expertise, data, and feasibility in current operating context in Ukraine. The Youth Economic Opportunities Lead will be supported by a part-time Program Assistant.
Currently, the work under this position can be done remotely. The position will be based in Kyiv once the security situation allows.
We are doers. Our decades of on-the-ground experience help us create greater impact, practical recommendations, and lasting partnerships.
Are you the next member of our team? 
Your Background & Skills
Bachelor's Degree in economics, finance, international development, business administration, public administration, education, management, or another relevant field is preferred.
7+ years of experience in economic development programs or in relevant field such as setting up career orientation programs or implementing entrepreneurship support programs.
Strong project management skills and ability to design, plan, and oversee activities and interventions that lead to achieving program goals.
Strong problem-solving skills and ability to work with minimum supervision.
Portfolio of successfully implemented projects or interventions that created economic opportunities for youth would be an advantage.
Experience of developing economic and entrepreneurship curricula would be an asset.
Experience of programmatic oversight of grants is desirable.
Knowledge of economic environment in Ukraine as it relates to youth—needs, challenges, stakeholders, resources, and institutions.
Strong leadership and partner coordination skills.
Demonstrated success in maintaining excellent cooperation with partner organizations, and the ability to establish productive relationships with businesses, government officials, and opinion leaders at the local and national levels.
Demonstrated ability to facilitate dialogue and work constructively with a diverse range of actors.
Excellent interpersonal and organizational skills.
Strong command of spoken and written English, Ukrainian and Russian.
Ability to handle multiple priorities and complete tasks and projects in accordance with stated deadlines.
Ability to work independently and in a team and the ability to take initiative, meet deadlines, and be flexible.
Willingness to travel when health, safety, and epidemiologic conditions allow.
Ukrainian citizenship or residency with work authorization is required. 
Your Daily Tasks
Design, lead the implementation, and ensure quality control of in-person and online program activities that create economic opportunities and proper career orientation for diverse youth (for example, support program for youth-led entrepreneurs, developing a model of career orientation services, promotion of financial literacy etc).
Provide technical expertise on economic development and entrepreneurship programs.
Prepare and manage relevant program budgets projecting expenses, tracking costs and allocating project resources in a cost-efficient manner.
Involved in the selection of subgrantees, providing technical leadership and oversight to select grantees.
Identify, select and manage external consultants working on career orientation, economic development for youth and other relevant field.
Work closely with the Senior Partnerships Manager to map, establish, and maintain effective working relationships with businesses, local governments, civil society, youth groups, opinion leaders, educational institutions, and other program stakeholders.
Coordinate with UNITY partners who implement designated activities, provide programmatic feedback and recommendations ensuring progress towards key results on time and within budget.
Support UNITY partners in adapting international best practices and solutions to the Ukrainian context and the needs of Ukrainian youth.
Understand and act on lessons learned and develop recommendations for activities that strengthen collaboration between educational and other relevant public institutions (youth centers, municipal employment centers), and the private sector to match the supply and demand within local job markets and help better prepare youth to enter the workforce.
Work closely with the Youth Centers Manager to ensure that UNITY training is embedded into youth centers' work and youth center staff are appropriately trained and mentored.
Advocate for the inclusion of new working solutions (courses, activities, approaches, services for youth) to school and university programs and services.
Identify and showcase local, regional, and national level economic opportunities for youth through toolkits, networking, and resource hubs.
Collect success stories and lessons learned to profile successful youth entrepreneurs and provide input to entrepreneurship-themed awareness campaigns.
Ensure effective monitoring, evaluation, and reporting of program activities, and ensure that training curricula and approaches are tailored based on evaluation results and data.
Draft program reports, updates, and other and reports on to program activities.
Supervise assigned staff and ensure that adequate support, mentoring, and coaching is available.
Other support duties as needed. 
IREX will make reasonable accommodations in compliance with the Americans with Disabilities Act of 1990, and the Americans with Disabilities Act Amendments of 2008.
We conduct background checks on all successful candidates.
This position is not eligible for Immigration Sponsorship. 
NO PHONE CALLS PLEASE
EOE – Equal Opportunity Employer
We are an Equal Opportunity Employer, including disability/vets.
To apply please visit: https://recruiting.ultipro.com/INT1065INRE/JobBoard/86f30819-0126-446a-84bb-cf37a5e878c1/OpportunityDetail?opportunityId=b7aed6fb-32f1-4378-b7f5-9b486c34f58c