Проект USAID шукає короткострокового IT бізнес аналітика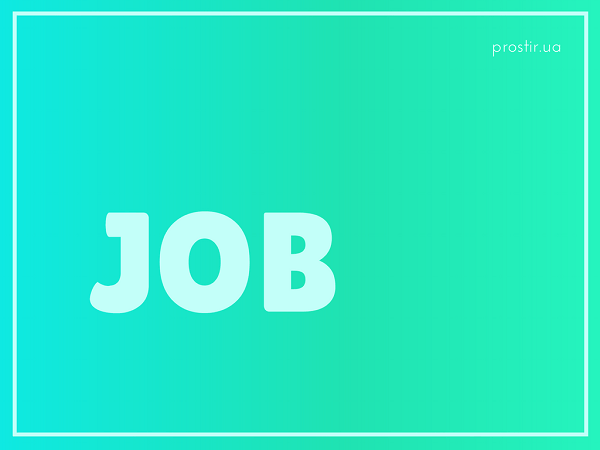 Проект USAID "Підтримка організацій-лідерів у протидії корупції в Україні "ВзаємоДія" (SACCI)" шукає короткострокового IT бізнес аналітика
Anticipated: Short-Term IT Business Analyst (STTA) for initiative of the Ministry of Health of Ukraine "Reforming the system of sick leave certificates circulation including deployment of the eRegistry" Support to Anti-Corruption Champion Institutions (SACCI) Program in Ukraine
Company Profile:
MSI, a Tetra Tech Company, is a US-based international development firm with a 35-year history of delivering development results across the world. Our core expertise is in the fields of institutional development, public sector management, governance and anti-corruption, and monitoring and evaluation (M&E). MSI implements nearly 100 projects in 90 countries around the world. As one of the leading companies in our field, MSI has partnered with more than 80 organizations across all sectors of international development with clients ranging from large bilateral and multilateral donors such as USAID, the World Bank and the UNDP to national and local governments, NGOs, think tanks, foundations and universities. For more information on MSI, please visit our website at www.msiworldwide.com.
Project Summary: 
The Support to Anti-Corruption Champion Institutions (SACCI) Program in Ukraine is a five-year USAID initiative with the objective to assist Ukraine to reduce corruption and increase the accountability and transparency of governance. The program seeks to empower key government institutions to fight corruption, build public support for and engagement in anticorruption effort, and reduce citizen tolerance to corruption. 
**Please note: Only citizens of Ukraine are eligible for this position**
Position Summary: 
MSI is seeking 2 short-term experts to provide IT business analytics support to an initiative of the Ministry of Health "Reforming the system of sick leave certificates circulation including deployment of the eRegistry". This initiative is aimed at establishing a new model of sick leave certificate circulation by means of integrating the Unified Registry of Sick Leaves (administered by the State Social Insurance Fund) with the eHealth system.
Re-design of Business Process Management models as well as compilation of specifications / terms of reference for the required software development will be done in close cooperation with State Owned Enterprise "Electronic Health" as directed by the Ministry of Health. It is expected that the service will result in approval of technical specifications for the system of sick leave certificates circulation elaborated as a part of the eHealth system.
Expected deliverables:
Business Process Management (BPM) models for the sick leave certificate circulation and related processes developed;
Terms of reference for the development of the registry of medical findings that will interface with the registry of sick leaves prepared;
Medical findings are stored in the central database and used in the formation of sick leave certificates;
The Registry of Medical Findings for integration with the Unified Registry of Sick leaves of the Social Insurance Fund is operational;
The IT business analysts will work closely with the SACCI program team.
No travel is envisaged. The assignment is expected to start mid-December 2018. The anticipated level-of-effort for this assignment is 150 expert days until 2 December 2019.
Responsibilities:
The responsibilities of the IT Business Analysts will include but will not be limited to the following:
Collection, analysis and preparation of business requirements for the product; formation of business and technical requirements, preparation of business cases, the calculation of the economic effect;
Development of technical documentation (technical specifications / operational documentation);
Processing change requests for requirements, analysis and description of the impact on existing requirements for the BPM models;
Analysis of requirements and the best world practice for the BPM models in eHealth systems;
Preparation of TORs for the required software development;
Analysis of problem areas and providing recommendations for their improvement; design API for new functionality (optional);
Creation of instructions for using API and use-case for API;
Participation in the meetings with the main stakeholders (the Interagency Working Group) with the further provision of the minutes to the initiative project manager;
Coordination and close cooperation with the Technical Development department of the SOE "Electronic Health"
Qualifications:
BS or bachelor's degree – Business, Engineering, IT, or related scientific/technical discipline – or equivalent relevant work experience;
3+ years' experience in business analysis;
Understanding the Software Development Process (SDLC);
Experience in writing technical specifications (Tech tasks or SRS) for IT projects;
Experience in modeling business processes (UML, BPMN is desirable);
Experience in communication with customers (clarification of requirements, presentations);
Experience in working with task management systems (task-tracking systems);
English language at least Intermediate level;
Ability to define, understand and translate business requirements into IT deliverables;
Proven ability to handle multiple priorities and deadlines well;
Effective at collaborating across internal and external partners and building relationships;
Proven success with being self-motivated, enthusiastic and able to work independently;
Experience working with Ukrainian Government bodies and their representatives (preferably).
Practical experience in software development (preferably)
Practical experience in server-side architecture and DevOps (preferably)
Application submission deadline is 27 January 2019, by 6:00 PM Kyiv time.
Late applications will not be accepted.
Please use Internet Explorer when submitting your application
Only candidates who have been selected for an interview will be contacted. No phone calls, please.
MSI is an EEO/AA/ADA Veterans Employer.
To apply: Please follow the link – https://chc.tbe.taleo.net/chc01/ats/careers/v2/viewRequisition?org=MSI&cws=51&rid=6489