Corporate Services Assistant у Посольство Великої Британії у Києві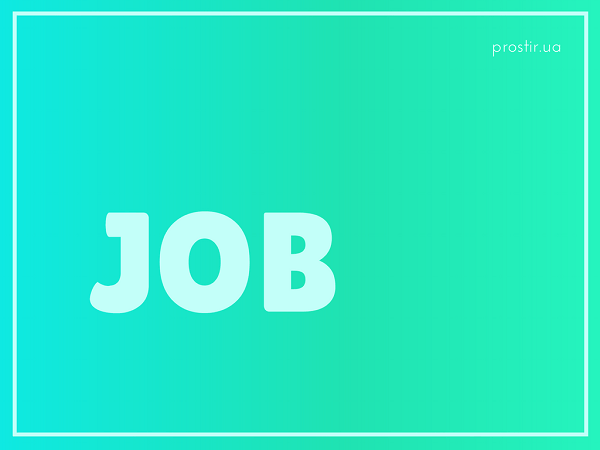 The British Government is an inclusive and diversity-friendly employer.  We value difference, promote equality and challenge discrimination, enhancing our organisational capability. We welcome and encourage applications from people of all backgrounds. We do not discriminate on the basis of disability, race, colour, ethnicity, gender, religion, sexual orientation, age, veteran status or other category protected by law. We promote family-friendly flexible working opportunities, where operational and security needs allow.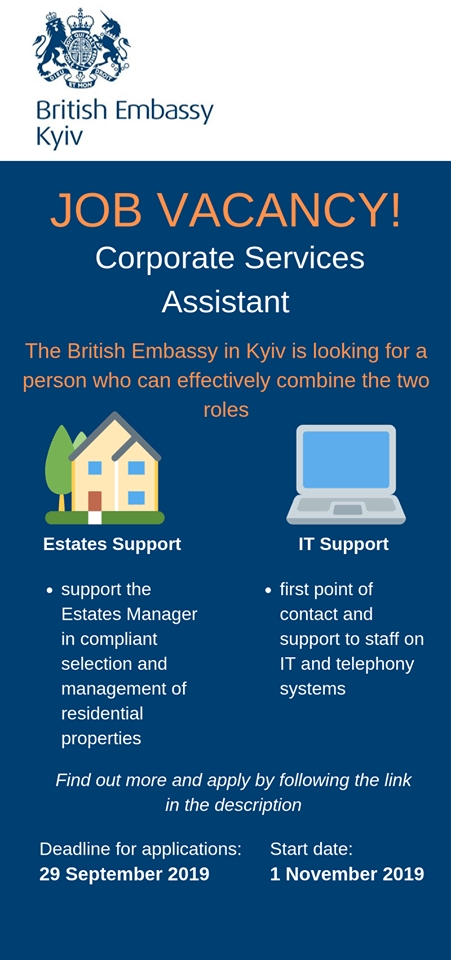 Job Category  
Foreign and Commonwealth Office (Operations and Corporate Services)
Job Subcategory  
Estates
The British Embassy in Kyiv is part of a world-wide network, representing British political, economic and consular interests overseas and is now looking to recruit a Corporate Services Assistant –ESTATES / ITSO.
The main purpose of the job is to support the Estates Manager in compliant selection and management of residential properties (50%) and to be the first point of contact and support to staff on IT and telephony systems – IT Support Officer (ITSO) (50%).
Main Duties and Responsibilities:
Estates Support role

- help with property searches, in particular liaise with agencies and provide analysis of apartments as to their compliance with FCO requirements;
– administration of Estates-related forms and guidance, prepare drafts in accordance with FCO requirements and complete templates as appropriate;
– Estates-related information management: compiling estates files (both hardcopies and electronic, ensuring all information is stored in order;
– Support to maintain Post Estates Database and Accommodation Plot (the schedule of arrivals and departures of UK based staff);
– deal with staff requests, arrange Work Orders correctly and in timely manner, maintain correspondence with staff / staff families and responsible officers;
– assist with furniture ordering, purchase and delivery.

ITSO Role
IT Administration
Act as first point of contact for users of IT and be responsible for advice on use of systems;
Proactively maintain IT equipment, reporting incidents and degradation in performance promptly to the Helpdesk and escalating through the correct channel where necessary;
Act as point of contact for Information and Communication Technology moves and changes at post;
Liaise with the Helpdesk to resolve IT issues at post and act as point of contact for technical visits;
Administer user accounts;
Manage shared mailboxes and distribution lists;
Be responsible for IT Security Procedures;
Management of consumables e.g. toner cartridges. 
      2. Hardware
Review, procure, install and maintain hardware equipment;
Administer stand-alone machines and network;
Install and maintain hardware/peripherals and support cabling, switches, etc.;
Maintain the Inventory of IT equipment.
     3. TELEPHONY
Local contact for telephony tasks, e.g. 1st level diagnostics on user reported problems e.g. power on, handset plugged in etc;
Where appropriate, capture information required by Vodafone and log an incident with the Vodafone service desk;
Work with Vodafone service desk to perform basic checks on Echo equipment located on site e.g. power, cabling, warning lamp status;
Act as the central point of contact for new user creation and equipment, upgrade hardware, deletion of users.
Proven track record of working in a customer-support environment / support function in an international organisation;
IT literate and confidence user of Microsoft Office 365;
Fluent both in English and Ukrainian (oral and written);
Intermediate languages skills in Russian (oral and written);
Self-starter, able to work independently, prioritise workload, seeking guidance when needed;
Willingness to learn.
IT administration Experience;
Knowledge of FCO structure and policies and procurement is desirable;
Experience of working in an embassy/ government environment.
Changing and Improving, Collaborating and Partnering, Delivering at Pace, Demonstrating Resilience
Europe, Eastern Europe & Central Asia
The appointment is a permanent contract.
This is a full-time position of 40 working hours per week including 1 hour per day for lunch. 
All applicants should have the right to live and work in Ukraine. The British Embassy does not sponsor work permits.
The successful candidate will be subject to professional background and security clearance.
Staff recruited locally by the British Embassy in Ukraine is subject to Terms and Conditions of Service according to local Ukrainian employment law.
Please note that the deadline for applications is 23:55 on the day mentioned in the above field "Application deadline". We advise you to allow enough time to complete and submit your full application, since only applications completed and submitted before the deadline will be considered.
Please be aware that the deadline for submitting applications is considered to be the time zone for the country where the vacancy has arisen.
The British Embassy does not pay for travel related expense incurred in interviews (including Security Check) or accept any financial risk, including cancelation or reschedule costs. The British Embassy will not meet the costs connected with relocation if offered a position.
Please be aware that you will only be able to apply to vacancies for Local Staff roles with the British Government through this official tal.net site (operated by Oleeo). Jobs may be advertised on third party websites, however our adverts will always link back to the official tal.net site. If you complete and send an application through any other site, we will not receive it.