Communications Specialist / Фахівець(-чиня) із зв'язків з громадськість і пресою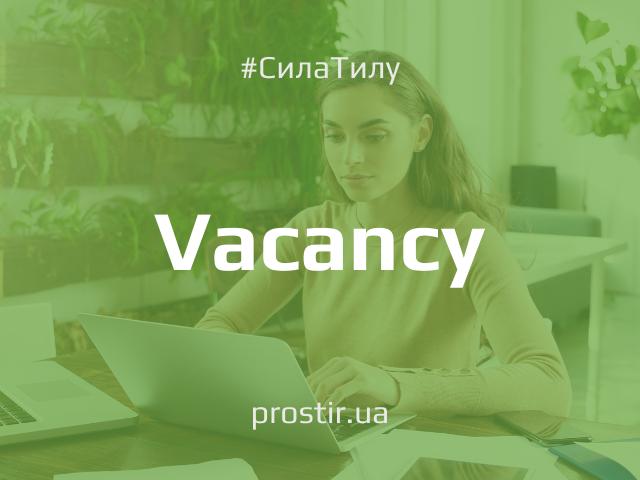 Communications Specialist
The Energy Security Project (ESP) is a seven-year project funded by the United States Agency for International Development (USAID) and the largest USAID project in Ukraine so far. USAID ESP is implemented by a USAID Contractor, Tetra Tech ES, Inc., a California-based leading provider of services in the areas of water, environment, infrastructure, resource management, energy, and international development.
The USAID ESP mission is to enhance Ukraine's energy security, improve the energy legal and regulatory environment in the country, and increase the resilience of Ukraine's energy supply. This will help to support the country's economic development and sustain its democracy. USAID ESP is working closely with the Government of Ukraine (GOU) to develop competitive energy markets. By doing so, USAID ESP will facilitate private sector-led energy investments to provide affordable, reliable, resilient, and secure energy for all Ukrainians. USAID ESP is currently in the fifth year of implementation and will run through June 2025.
Position Summary:
Tetra Tech ES, Inc., implementing the USAID Energy Security Project, is looking for a Communications Specialist to support ESP activities to implement effective project communication strategies at the national, regional and local levels. The Communications Specialist will develop communications content, help with media promotion of project activities and work with ESP technical staff/partners/vendors to ensure the compliance of media materials with USAID regulations. This is a full-time position for the period of 1 year with the possibility of extension for another term, based in the Kyiv office, Ukraine. The position will be reporting to the ESP's Communications and Public Outreach Director.
* Please note: Only Ukrainian nationals are eligible for this position. *
* The position is pending USAID's approval.
Responsibilities:
Provide overall support for ESP communications activities supporting technical areas;
Contribute to writing, editing, and producing project materials including press releases, articles, interviews, explainers, reports, fact sheets, one-pagers, PowerPoint presentations, and success stories related to project activities and accomplishments following USAID graphics standards and project branding and marking requirements. Oversee video and photography-based content production;
Arrange content translations and obtain necessary clearances and approvals prior to content publicizing;
Support preparation and implementation of communications initiatives (like information campaigns, contest of essays, contest of journalistic publications);
Oversee implementation of communication guidelines by the recipients of the project aid;
Support preparation and implementation of working meetings and public events of different formats (online, offline, hybrid), including media invites and accreditation, interaction with press services of governmental institutions, agreeing and distribution of releases;
Help promote project accomplishments and deliverables through communications channels to raise the project visibility and outreach: prepare updates to the project website and social media platforms (Facebook, LinkedIn, YouTube); prepare daily updates on the project deliveries to be shared with the Client;
Prepare meeting agendas and minutes;
Back up with uploading content onto ESP online platforms;
Participate in preparation of Energy News Reviews and the project's monthly newsletters;
Help produce customized products such as data visualizations and infographics, videos, and other communication products related to project activities and energy sector reform following USAID graphics standards and project branding and marking requirements;
Contribute to project monitoring and reporting on achieved results and reached targets;
Support in developing the content about project activities for public communication and on achieving results and reaching targets through effective communications;
Implement other communication-related activities and tasks as required.
Qualifications:
Bachelor's or master's degrees in communications/journalism or a related field;
At least three years of relevant experience in communications activities with international organizations;
Interest in key public policy issues including energy sector changes and reforms; previous experience in communications in energy sector is an advantage;
Experience in social media management (Facebook, LinkedIn, YouTube etc.);
Experience developing communication materials;
Prior experience with USAID-funded or other international organization projects and familiarity with USAID communications policies is an asset;
Highly motivated, energetic, independent and self-starter;
Ability and willingness to travel within Ukraine;
Strong communications skills – both oral and written;
Fluency in English and proficiency in Ukrainian is required.
To apply: Please submit a CV in English and a brief cover letter with the title of the position in the subject line to [email protected] 
There is no deadline associated with this position, Tetra Tech may fill the position when a qualified person is found.  Only candidates who have been selected for an interview will be contacted. 
To find more about USAID Energy Security Project, visit the Project website https://energysecurityua.org, follow us on Facebook https://www.facebook.com/usaidesp/, LinkedIn https://www.linkedin.com/company/energysecurityua/ and Youtube.