Senior Project Manager: IT, DevOps (Category 1) в Офіс підтримки реформ (RST) Міністерства розвитку громад та територій України
ЗАВЕРШЕНО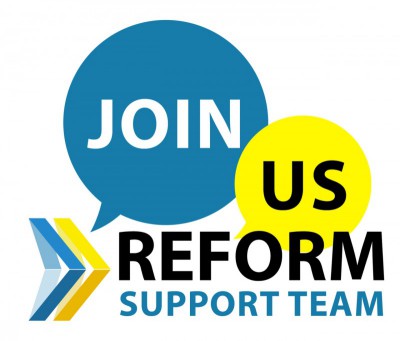 Senior Project Manager: IT, DevOps (Category 1)
1.Objective(s) and linkages to Reforms
A Reform Support Team (RST) at the Ministry for Communities and Territories Development of Ukraine (MCTD) is a group of Ukrainian professionals (non-civil servants) funded on a temporary basis by international donors to provide targeted technical support and assists the MCTD in the design and implementation of priority reforms. The RST will assist in filling the capacity gaps in the design and implementation of priority reform strategies and programs, while strengthening links and partnerships between the Ministry's priorities and relevant donor support.
The main reform areas that the RST will be dealing with are focused on the design and implementation of energy efficiency reform, utilities sector reform, housing policy reform, comprehensive construction industry reform and PAR, as stipulated by Ukraine's commitments to the EU Association Agreement.
The main purpose of the RST for IT Team is to support in achieving strategic goals in digital transformation projects in the Ministry and in providing assistance focused on key reform priorities:
Organisational and IT capacity building;
IT strategy and Action Plan development;
Updating the Business Process Analysis and Reporting System;
IT projects implementation;
Introduction of cybersecurity;
Development of internal rules and procedures related to IT project management.
2.Position and reporting line
The  Senior Project Manager act as a catalyst in project management and will work in close cooperation with the reform sectors Senior Project Managers and Deputy Minister on Digital Development, Digital Transformation and Digitalization.
A highly qualified professional is needed to draft, supervise and support the necessary products (documents) related to the IT reform.
The Senior Project Manager on IT will be subordinated to the Director of the RST MCTD.
3.Duration and proposed timeframe
The initial consultancy assignment is expected to start in June 2021 and has an estimated duration up to 3 months. This assignment has an opportunity for extension for another 12 months, subject to the donors funding availability, consultant's performance and the specific needs of the RST.
4.Main Duties, Responsibilities and Deliverables
Main duties and responsibilities:
Develop and maintain a scalable healthy DevOps environment;
Create and maintain frameworks, systems & procedures to understand, control, manipulate, and scale all aspects of all our environment infrastructure;
Participate in the process of developing applications and services;
Development and support of network infrastructure;
Development and support of Cloud infrastructure;
Be part of process development of CI/CD;
Develop and support IaaC;
24/7 (be available via phone, messenger etc) support of infrastructure;
Develop and support of backup and restore process of DBs;
Identify potential problems and risks;
Participate in DevOps related projects;
Document ideas, design infrastructure as a code in diagrams or graphical representations;
Other responsibilities as assigned by the RST Director.
 Main anticipated deliverables:
The automation developed in CI/CD pipelines directly drives more frequent deployments;
Identified problems and reduced deployment time;
The amount of downtime considered acceptable highlighted for systems;
Failed deployment percentages tracked;
Calculated mean time to recovery (MTTR) and mean time to discovery (MTTD);
Quick incoming requests handling processes are analysed;
Technical debt closed;
Potential problems and risks identified;
Backup and restore process of DBs developed;
Infrastructure as a code basics implemented in practice.
 5.Qualifications, Skills and Experience
5.1.Qualifications and skills:
Master's degree preferably in IT, engineering, mathematics, management;
Fluency (both written and spoken) in Ukrainian and English;
High motivated and results-driven individual with the ability to prioritise and multi-tasking;
Ability to make conclusions from data and drive an action accordingly;
Problem-solving and the ability to work independently and within a team;
Excellent organisational, interpersonal, analytical and customer service skills;
Familiarity with the reform agenda in Ukraine, a good understanding of the policymaking process;
5.2.General professional experience:
Preferably more than 10 years of general professional experience (minimum 5 years);
Preferably 5 years of experience in IT project management, consulting related to the field of assignment (minimum 3 years);
Minimum 2 years of general professional experience in the position of DevOps engineer.
5.3.Specific professional experience:
Strong system skills (Linux, networking, security);
Understand business and project objectives in terms of budget/costs, timeframes, objectives and factor these into designs and decisions;
Knowledge of virtualisation and containerisation platforms (AWS CloudFormation, AWS ECS Docker, Xen/KVM Hypervisors etc);
Experience with cloud systems (AWS or MS Azure or GCP);
Databases like: PostgreSQL/MySQL/MongoDB etc;
Redis/Kafka/RabbitMQ;
Strong scripting languages experience (Ruby, Python or any other language);
Understanding infrastructure as a code concepts and experience with tools such Terraform, Puppet and/or Ansible;
Experience with CI/CD tools like Jenkins, Bamboo, or others;
Experience with security topics/tools in the cloud and in the DevOps world;
Experience as a software engineer will be a plus;
Experience as a network engineer will be a plus.
6.Funding Source
The funding source of this assignment is the EBRD Ukraine Stabilisation and Sustainable Growth Multi-Donor Account (MDA). Contributors to the MDA are Denmark, Finland, France, Germany, Italy, Japan, the Netherlands, Norway, Poland, Sweden, Switzerland, the United Kingdom, the United States and the European Union, the largest donor.
 Please note, selection and contracting will be subject to the availability of funding.
7.Submissions
Submissions must be prepared in English only and be delivered electronically by 23 of May 23:59 (Kyiv time), 2021 to [email protected]
All submissions must include:
a completed Application Form;
a completed NDA Form;
the candidate's Curriculum Vitae;
Reference Letter from a recent supervisor (original in English, or Ukrainian with English translation) together with the contact details for two further referees who, if contacted, can attest to the professional and/or educational background of the candidate.
 Only applications which have been submitted using the correct template and are fully completed will be considered.
8.Selection Procedure
Following the evaluation of all applications received, selected candidates may be invited to the tests. Only shortlisted candidates will be invited to the interview.