Legal Expert: Utilities Sector Reform в Офіс підтримки реформ (RST) Міністерства розвитку громад та територій України
ЗАВЕРШЕНО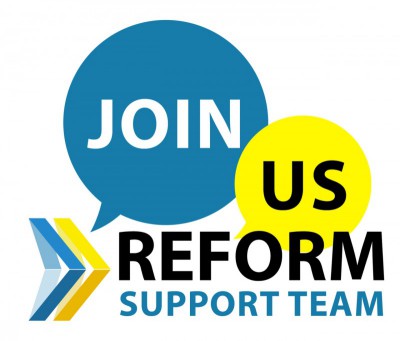 Legal Expert on Utilities Sector Reform (Category 2)
1.Objective(s) and linkages to Reforms
A Reform Support Team (RST) at the Ministry for Communities and Territories Development of Ukraine (MCTD) is a group of Ukrainian professionals (non-civil servants) funded on a temporary basis by international donors to provide targeted technical support and assists the MCTD in the design and implementation of priority reforms. The RST will assist in filling the capacity gaps in the design and implementation of priority reform strategies and programs, while strengthening links and partnerships between the Ministry's priorities and relevant donor support.
The main reform areas that the RST will be dealing with are focused on the design and implementation of energy efficiency reform, utilities sector reform, housing policy reform, comprehensive construction industry reform and PAR, as stipulated by Ukraine's commitments to the EU Association Agreement.
Utilities sector reform is one of the priorities of the Government of Ukraine and the MCTD as it covers almost all population of Ukraine and is a part of the priorities of Government Programme of the 12 of June 2020 Res.№ 471, aimed at the:
Increasing the number of apartment buildings with a defined form of management;
Development and simplification the procedures of making decisions by co-owners of apartment buildings;
Improvement rules of management of apartment buildings;
Formation of a competitive market in utilities sector;
Creating conditions for the uninterrupted and profitable operation of utilities;
Stimulation of investment activity in the field of housing and communal services;
Ensuring the quality of drinking water following regulatory requirements;
Introduction of separate collection of household waste;
The Ministry has made the Utilities Sector Reform one of its top priorities and is committed to building a healthy and transparent system to make Ukraine adhere to the international standards. 
2.Position and reporting line
The Legal Expert will work together with the Project Manager on the Reform in close cooperation with the Department of Utilities and Communal Services, Department for Housing Policy and Landscaping.
A highly qualified professional is needed to support the MCTD in necessary legislation changes related to district heating, waste management, water supply and water sewage, housing sectors reform, and to support the MCTD initiatives and the alignment and implementation of the EU acquis (legislative and non-legislative measures) and relevant secondary legislation. The Legal Expert on Utilities will be subordinated to the Project Manager on Utilities Sector Reform.
 3.Duration and proposed timeframe
The initial consultancy assignment is expected to start in June 2021 and has an estimated duration up to 3 months. This assignment has an opportunity for extension for another 12 months, subject to the donors funding availability, consultant's performance and the specific needs of the RST.
4.Main Duties, Responsibilities and Deliverables
Main duties and responsibilities:
Support the MCTD in drafting and supporting necessary laws and secondary legislation changes in district heating, waste management, water supply and water sewage, housing sectors;
Assist the Ministry to negotiate provisions of draft laws and secondary legislation with international organizations, financial institutions, ministries, and Ukraine parliament committees regarding their implementation;
Legal support of draft legislation during their approval in the ministries, ministries' internal departments and the Cabinet of Ministers of Ukraine (CMU);
Collaboration with internal legal departments of the ministries, state authorities, and the parliament to professional development and capacity building in implementation of District Heating sector, waste management, water supply and water sewage, housing sectors reform legal acts;
Provide all necessary support required to ensure implementation of the new regulation developed under reform priority area, including but not limited to the laws, concepts, programs and secondary legislation;
Support the MCTD in legal analysis of current legislation and preparation of propositions for its amendments;
Legal analysis of draft laws and secondary legislation to be approved by the CMU or the parliament about their influence on Utilities reform process, preparation comments and amendments to such draft laws and secondary legislation;
Preparation of slides for presentations, infographics on legal issues of the Reform;
Prepare timely, and quality reports and status updates on implementation progress;
Other responsibilities as assigned by the RST Director.
 Main anticipated deliverables:
Draft Law and secondary legal acts on amendments to the legislation on housing management developed and its further advocacy provided;
Proposals for introduction unified platform on communal services prepared, needed legal acts drafted and support for its adoption provided;
Legal acts on introduction new contracts on supplying communal services developed and provided support for its adoption;
Legal acts on implementation Directive 2012/27/EU in Ukrainian legislation drafted and provided support for its adoption;
Regular progress reports on reform development and implementation provided.
 5.Qualifications, Skills and Experience
5.1.Qualifications and skills:
Master's degree in Law;
Strong analytical, verbal, and written communication skills;
PC literacy (PowerPoint, Word, Google docs);
Fluency in Ukrainian and English.
 5.2.General professional experience:
Preferably More than 10 years of general professional experience.
 5.3.Specific professional experience:
Preferably minimum 5 years of working experience in legal department in private or public sectors in development, analysis and implementation of policies and strategies, monitoring and evaluation and/or other related areas;
Experience in housing and communal sector is a plus;
Experience working with multidisciplinary teams is an asset;
Experience in development of legal regulations is a plus
Experience with government entities and their mandate and processes is an asset.
6.Funding Source
The funding source of this assignment is the EBRD Ukraine Stabilisation and Sustainable Growth Multi-Donor Account (MDA). Contributors to the MDA are Denmark, Finland, France, Germany, Italy, Japan, the Netherlands, Norway, Poland, Sweden, Switzerland, the United Kingdom, the United States and the European Union, the largest donor.
Please note, selection and contracting will be subject to the availability of funding.
7.Submissions
Submissions must be prepared in English only and be delivered electronically by 23 of May 23:59 (Kyiv time), 2021 to [email protected]
All submissions must include:
a completed Application Form;
a completed NDA Form;
the candidate's Curriculum Vitae;
Reference Letter from a recent supervisor (original in English, or Ukrainian with English translation) together with the contact details for two further referees who, if contacted, can attest to the professional and/or educational background of the candidate.
 Only applications which have been submitted using the correct template and are fully completed will be considered.
8.Selection Procedure
Following the evaluation of all applications received, selected candidates may be invited to the tests. Only shortlisted candidates will be invited to the interview.